Get an
instant quote

below
Book an engine oil and filter change at National
The benefits of a new oil and filter change are abundant, it keeps your car engine clean, optimises performance and can even improve your fuel economy. Oil is often described as the 'lifeblood of the engine' since it lubricates and removes harmful deposits which may impact on your engine's performance. Regular oil and filter changes are essential. You can never change your oil and filter too often.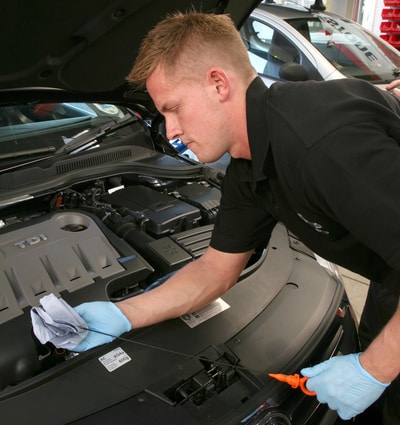 National Tyres and Autocare has over 1,000 fully qualified oil and filter technicians across the UK who are standing by to help you select the right type of oil for your vehicle.
How do I tell if my oil needs changing?
Oil is vital to the functioning of the engine; therefore, it is important that it is regularly changed to keep your engine running smoothly. There are some signs that you can look out for that may indicate that your oil needs changing;
To ensure you get the best price for your next oil and filter change, speak directly to one of our local technicians on the telephone number above or use our simple registration number lookup system to get a quick quote or make an online booking. National completes thousands of oil and filter changes every week, helping customers' engines run better and last longer for a low cost.
FREE Visual Safety Check
Not sure if you need an oil and filter change? Why not book in for a free safety check at any of our branches. The check takes about 20 mins and as well as checking your engine oil, they will also check the tyres, battery, shock absorbers, exhausts, and also your brakes. Once the Safety check has been completed, you will receive a full written safety inspection report and you will be advised of any technical matters that may have been found.
Servicing packages at National
Here at National, we have a number of different servicing packages. As well as an Oil and Filter Change, we also can offer you either an Interim Service or a Full Service. An Oil Change will be conducted as part of an Interim Service and a Full Service.
How much is an oil change?
Oil and filter change prices vary depending on the vehicle manufacturer, model, and its specific oil requirements. The easiest way to find a price for an oil and filter change is to click the green 'BOOK NOW' button at the top of this page.
We also provide a Payment Assist for our customers, where we can take the payment over instalments. Please note that Payment Assist is only available on orders which are over £200. This would be a perfect option for you if you were purchasing tyres along with an oil and filter change.
Oil & Filter Price Promise
National can offer a speedy and low-cost oil & filter change to get you back on the road with the minimum hassle. Don't forget our Price Promise – if you can find the same product at a lower price in stock locally within 7 days of purchase, we promise to match the competitor's written quotation.
Frequently Asked Questions