Time for an OIL
and FILTER change?
PHONE FREE
0800 62 66 66
OR GET ONLINE QUOTE
Do not forget to download our oil and filter discount voucher
Book an engine oil and filter change at National
The benefits of a new oil and filter change are abundant, it keeps your car engine clean, optimises performance and can even improve your fuel economy. Oil is often described as the 'lifeblood of the engine' since it lubricates and removes harmful deposits which may impact on your engine's performance. Regular oil and filter changes are essential. You can never change your oil and filter too often.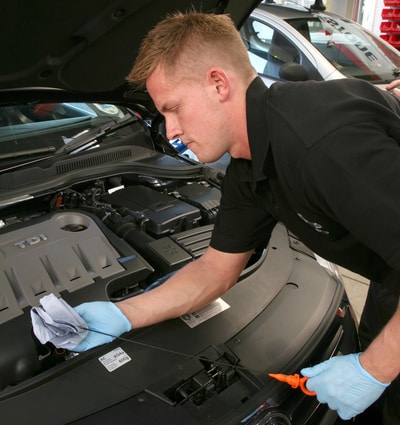 National Tyres and Autocare has over 1,000 fully qualified oil and filter technicians across the UK who are standing by to help you select the right type of oil for your vehicle.
How do I tell if my oil needs changing?
Oil is vital to the functioning of the engine; therefore, it is important that it is regularly changed to keep your engine running smoothly. There are some signs that you can look out for that may indicate that your oil needs changing;
To ensure you get the best price for your next oil and filter change, speak directly to one of our local technicians on the telephone number above or use our simple registration number lookup system to get a quick quote or make an online booking. National completes thousands of oil and filter changes every week, helping customers' engines run better and last longer for a low cost.
FREE Visual Safety Check
Not sure if you need an oil and filter change? Why not book in for a free safety check at any of our branches. The check takes about 20 mins and as well as checking your engine oil, they will also check the tyres, battery, shock absorbers, exhausts, and also your brakes. Once the Safety check has been completed, you will receive a full written safety inspection report and you will be advised of any technical matters that may have been found.
Interim or Full Service package
Here at National, we now offer two different servicing packages. As part of these servicing packages, whether that be an Interim Service, or a Full Service an oil change will be conducted.
How much is an oil change?
Oil and filter change prices vary depending on the vehicle manufacturer, model, and its specific oil requirements. The easiest way to find a price for an oil and filter change is to enter your registration number into the search box at the top of this page and it will give you an instant quotation for your vehicle, including the recommended oil.
We also provide a Payment Assist for our customers, where we can take the payment over 6 instalments. Please note that Payment Assist is only available on orders which are over £250. This would be a perfect option for you if you were purchasing tyres along with an oil change.
Oil & Filter Price Promise
National can offer a speedy and low-cost oil & filter change to get you back on the road with the minimum hassle. Don't forget our Price Promise – if you can find the same product at a lower price in stock locally within 7 days of purchase, we promise to match the competitor's written quotation.
What oil do we recommend?
The health of your engine depends greatly on the performance of the oil and filter. At National Tyres and Autocare, we only use top quality engine oils from one of the world's largest lubricant manufacturers, Valvoline.

Click here to see the Valvoline oil specifications
Valvoline is one of the world's most trusted oil brands who have been making oil since 1866. In fact Valvoline was the only engine oil recommended by Ford for their 'Model-T' in 1920. Valvoline has over 150+ years of manufacturing excellence and was responsible for developing the world's first racing oil and the world's first high-mileage blend.
Frequently Asked Questions
CLICK HERE TO DOWNLOAD VOUCHER
Customer comments
Very good service and cheap
"The service was very good the quality of the oil was good and the most important thing was the price was much cheaper than other garages." Colin Mills
---
Excellent Service
"I have used National several times for new tyres, oil change etc. and have always been pleased with the service." Graham Spencer
---
Oil be seeing you again
"Fantastic website, great service." Karen Morgan
---
Really Impressed
"From start to finish the service was excellent. Thank you." John Harrison
---