Excessive bouncing?
Poor steering control or an off-centre
steering wheel?
Your steering and suspension may
need checking.

Book a FREE check online
Car Steering and Suspension Check & Repair
Steering and suspension refers to a complex system of components that connects the body of a car to the wheels. This system allows you to control the direction of your vehicle whilst limiting the impact of uneven road surfaces and vibrations on the car. This ensures passengers maintain as safe, controlled and comfortable a ride as possible.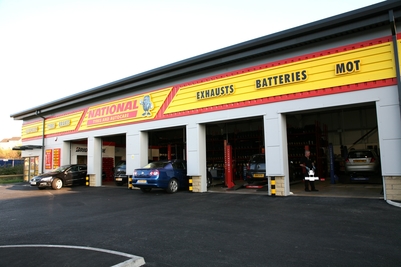 It can be difficult to recognise a problem with your suspension system given that loss of performance occurs gradually over a period of time, however due to the harsh environment in which this system operates, and the large number of varying components involved, it is essential your vehicle is checked on a regular basis.
Identifying Suspension Problems
A faulty or damaged suspension is not something that should not be taken lightly as it is an instrumental part to the vehicle and is needed to absorb impact, improve handling and even ensures even tyre wear. There are certain clues in the performance of your car that can suggest that the suspension of your vehicle needs looking at.
Identifying Steering Issues
Faulty steering can be down to a number of issues and the consequences can be extremely dangerous. Problems with steering can cause or be caused by a number of different issues:
FREE Steering and Suspension safety check
If you feel like you have an issue with either your steering or suspension, by clicking the green 'Book an Appointment' button above, you will be able to book in for a FREE safety check at a National Tyres and Autocare branch local to you.
Interim or Full Service
During any of our servicing options here at National Tyres and Autocare, whether that be an Interim service or a Full service, your steering and suspension will be checked. The steering, suspension linkages and ball joints will be checked for wear or damage.
Price Promise
Don't forget about our Price Promise to you – if you can find the same product at a lower price, in stock locally within 7 days of purchase – we promise to match that competitor's written quotation.
The 4 basic components of a suspension system
What does the car suspension do?
The suspension system is essential to the ride, comfort and handling of a vehicle. If you put weight on the bonnet of your car you will notice it going down; this is the suspension at work. But what exactly does the suspension do?
What is power steering?
Power steering is a feature that is seen in most cars seen on the roads today. Essentially, power steering is a system that helps the driver turn the steering wheel with ease. This may seem like a basic requirement for the vehicle, however, there is a lot that goes on behind the scenes to help drivers steer so effortlessly.
Parts of the power steering include:
Why does my steering wheel vibrate?
A vibrating steering wheel is often overlooked by a number of different drivers. However, it can also indicate that something severe going on with your vehicle. There are a number of reasons why your steering wheel may be rattling: