AdBlue fuel additive reduces pollutants emitted by most diesel engines
BOOK ONLINE
AdBlue Refill & Top Up Service, Up to 10L
Our AdBlue top-up is just £27.99 and can be booked online today. Simply hit the green button at the top of the page to add to your basket.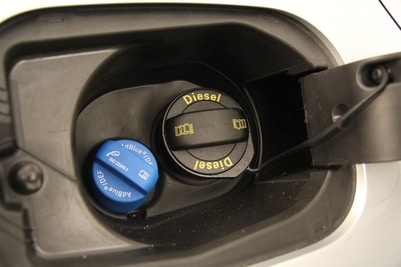 What is AdBlue?
AdBlue is a fuel additive that significantly reduces pollutants emitted by diesel engines. AdBlue is used in most diesel cars that were manufactured after 2016 and complies with the Euro 6 regulations regarding the reduction of nitrous oxide emissions.
AdBlue is a mixture that is injected into the car's exhaust and helps break down mono-nitrogen oxides. If you own a diesel car, you may need to top up your AdBlue in between services to ensure smooth running, especially for high mileage drivers.
Does my car use AdBlue?
Most diesel cars from 2016 onwards will use AdBlue. Your vehicle handbook will confirm if it does. If so, there will be an AdBlue tank that will need filling. A warning light may appear on your dashboard if you run out of AdBlue, and if your car runs out the performance may decrease, alongside a major increase in emissions.
How much AdBlue do I need?
The AdBlue tank varies in size depending on the car. The consumption rate will also vary depending on the car's size and the driving style of the motorist.
How much is an AdBlue top-up?
At your local National branch, you can refill your AdBlue, up to 10L for a price of £27.99. If additional litres are required, there may be an added charge.