BATTERY SEARCH
Enter your registration number
Camper Van Batteries
If you run a camper van, the last thing that you need on a weekend away in the sticks is for your battery to let you down. If you think that your camper van battery might be running low on juice or you haven't had it checked in a while, why not pay us a visit?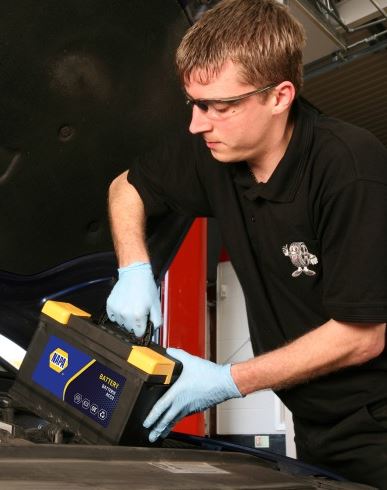 We've got all bases covered when it comes to camper van batteries. Whether you're looking for an affordable replacement battery for your camper van or just want to take advantage of our free battery-check service, we'll make sure that you drive away with everything that you need. With over 250 locations available across the UK, getting your camper van battery sorted with National is quick, easy and cost-effective.
You don't need to know the first thing about camper van batteries, either. To get started, simply enter your vehicle's registration into our battery search tool at the top of the page and we'll find the perfect battery for your camper van.
How do I know if my camper van battery needs replacing?
Not sure whether your camper van battery is on its last legs? There are a few tell-tale warning signs for which to look out:
Warning lights on the dashboard: If the battery or engine light is showing on your dashboard when you start up your van, that may be a sign of a fading battery.
Your camper van is slow to start: If your van's engine is ticking over slowly when you try to start up and getting it up and running takes longer than usual, that's a good sign that the battery components are starting to fail.
Electrical issues: If you're noticing dimmed lights or other elements of the electrical system running at less than their best, there's a good chance that the issue lies with the battery.
If you're experiencing any of these issues or have another issue which you think is linked to a potential battery issue, book in for a free battery check at your local National branch and we'll happily take a look.
Can I get my camper van battery tested?
While you can check your battery at home if you've got the right kit, the easiest, quickest and most hassle-free way to get your battery tested is at your local National Tyres and Autocare branch, where you can get your battery tested free of charge.
Our free battery test looks at the key performance metrics of your battery; its voltage, start capacity and general condition. We'll be able to identify any minor issues before they turn into bigger problems. More importantly, we'll be able to tell you whether you need a new battery or not.
What gets tested as part of your battery check?
Voltage
Just like a car battery, your camper van battery should give a reading of 12.6 volts. If we get any reading lower than this, it'll need either recharging or replacing.
Start capacity
Assessing how well your battery can start from cold is a critical performance metric. At low temperatures, a battery for a camper van must maintain 7.2 volts. If it doesn't, this suggests that your battery isn't working optimally and may cause problems.
General condition
We'll also take a look at the overall condition of your battery, with four possible outcomes:
Good battery – no action required.
Good battery recharge – your battery is in good condition but needs recharging. This can be done by taking a 45-minute drive.
Recharge battery then retest – your camper van battery is running low and needs recharging. We'll also do a retest in a week's time.
Replace battery – your battery is nearing the end of its use period and it's time to think about getting a replacement.
Which is the right battery for my camper van?
It's important to get the right battery for your camper van. In most instances, we'd recommend a heavy-duty van battery capable of doing all the heavy lifting that comes with being a camper van in regular use.
Your first port of call should be your owner's manual, though. There, you'll find all the information on suitable battery type and size for your van. We can also help – stick your registration into our battery lookup tool at the top of the page and we'll give you all the basic information that you need.
You can also call into your local National centre to speak to a member of our expert team.
How much do camper van batteries cost?
Prices on our camper van batteries start at just £119, which includes fitting and safe disposal of your old battery. To get a better idea of how much your camper van battery will cost, use our battery search tool at the top of the page to get a full breakdown of prices.
We know the costs of running a camper van can be substantial, so we endeavour to keep our prices as low as possible. Our Price Promise means that we won't be beaten on price, and our Payment Assist plans are there to help you to break down the cost of your purchase, with a number of flexible payment options available.
Can I get my new camper van battery fitted at home?
You might not be able to make it to one of our 250-plus locations across the UK. If you're busy with work or the kids – or your battery is as flat as a pancake and you can't drive to us – our mobile fitting service is here to help.
Simply book a time and place that works for you – that can be at home, work or wherever else suits – and our team will come to you.
Why choose National Tyres & Autocare?
With over 250 branches nationwide, unbeatable prices and expert, experienced, convenient service available, there are plenty of reasons to choose National for your camper van battery:
Search by batteries by vehicle manufacturer here: Battery Search by Vehicle Manufacturer.
A great selection: We've got a huge range of camper van batteries available, so we'll have the right battery for your camper van.
Free battery testing: Take advantage of our free battery testing service to see exactly what does or doesn't need to be done with your current battery.
Incredible value: We make things affordable and manageable with our Price Promise and Payment Assist plans.
Over 250 UK locations: With over 250 branches across the UK, your local national won't be too far away.
We'll come to you: Can't make it to us. Our mobile fitting service brings your new battery to you for ultimate speed and convenience.
Peace of mind guarantees: All of our camper van batteries come with a four or five-year warranty to give you long-term peace of mind.
Camper van battery FAQs