Run Flat Tyres
We're the largest fast-fit tyre specialist in the UK and have the biggest range of car tyres available to buy. You'll find an extensive selection of run flat tyres from some of the industry's top brands, including big names like Michelin, Pirelli and Continental. There are also exclusive mid-range and budget run flat tyres from the likes of Yokohama and Autogreen, all ready to fit while you wait.
To buy tyres online, use our search tool above. It is pre-filtered for run flat tyres so all you need to do is provide your registration and postcode. You can visit us at one of the 200+ National branches across the UK or get in touch with our friendly technicians to ask your tyre-related questions.
What are run flat tyres?
Run flat tyres are also known as self-supporting tyres and are specially designed to keep working for a short time even after they suffer a puncture.
So, if you get a puncture on a cold, dark night, there's no need for an uncomfortable roadside tyre change. Your run flat tyres are required to work with a tyre pressure monitoring system (TPMS) that alerts you when there is a change in tyre pressure. You should be able to safely drive home or to your nearest garage to get your tyre changed.
Run flat tyres also reduce the dangers of a potentially dangerous tyre blowout due to their unique construction.
How do run flat tyres work?
A run flat tyre is made with reinforced sidewalls. The tough rubber inserts allow the tyre to temporarily hold up the weight of a vehicle after a puncture. A standard tyre would collapse in the event of a puncture, due to its sidewalls simply being kept up by air.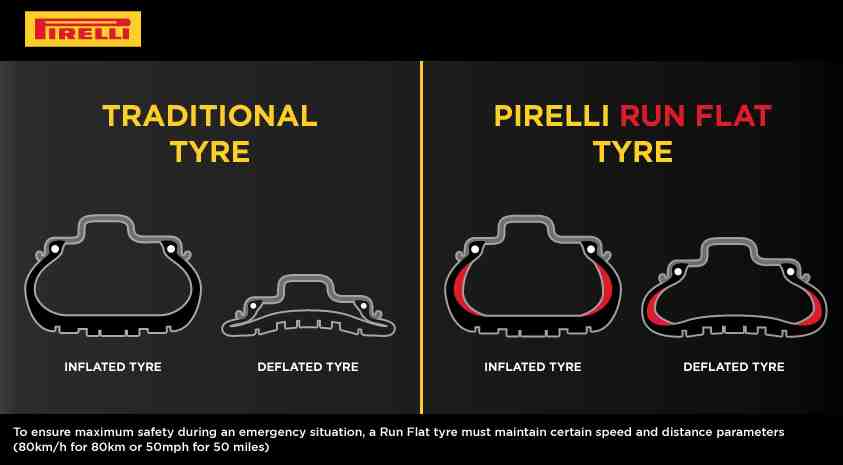 Vehicles fitted with Run Flat as 'Original Equipment (OE)
An increasing number of vehicle manufacturers are opting to fit new cars with run flat tyres. As a result, they do not have a spare tyre or tyre-changing equipment included as standard. Run flat tyres can be fitted on cars, vans and 4x4s.
Fitting 'Conventional' Tyres to a Run Flat Equipped Vehicle
If your car was originally supplied with run flat tyres, then it is possible to change to 'conventional' tyres. However, if the vehicle was designed with run flat tyres in mind, bear in mind you could be left stranded without a spare! Make sure you also buy a new spare tyre and tyre-changing equipment.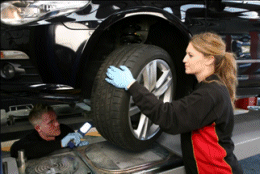 Do I need run flat tyres or conventional tyres?
We are not recommending that you change the type of tyre your vehicle was originally supplied with. Changing to regular tyres could affect the handling of your car, so you must always consult the manufacturer before making this type of change.
However, some people choose to do this because conventional tyres are generally cheaper and offer a smoother ride. Take a look at our guidance on conventional and run flat tyres to see what the best choice for your vehicle would be.
How to identify run flat tyres?
Run flat tyres aren't appropriate for every vehicle so it's recommended that you check the manufacturer information provided to see if your car is a match.
You can identify whether your tyres are run flat by inspecting the tyre sidewall. Unfortunately, there is no standard symbol used for run flat tyres and different tyre manufacturers use different markings.
Please see the table below for the run flat codes for specific tyre manufacturers. If you are looking at run flat tyres on the National Tyres website, any tyre marked with the tyre symbol 'RF' is a run flat tyre.
| Brand | Run Flat Tyre Descriptions | Technical Enquiry No |
| --- | --- | --- |
| Bridgestone | RFT (Run flat Tyre) | 01926 488 595 |
| Continental | SSR (Self Supporting Run Flat | 01788 552 937 |
| Dunlop | DSST (Dunlop Self Supporting Tyre) | 01902 327 070 |
| Goodyear | EMT (ExtendedMobility Tyre) | 01902 327 070 |
| Michelin | ZP (Zero Pressure) | 0845 366 1535 |
| Pirelli | Tyre identified as a "Run Flat" tyre | 0870 240 9996 |
Fitting Run Flat to an older vehicle ('retro fitting')
If you are considering changing to run flat tyres on a vehicle that was previously fitted with conventional tyres, then there are several points to consider:
Tyre Pressure Monitoring System
Run flats must only be installed on a car which has a tyre pressure monitoring system. TPMS alerts the driver to a puncture, so they are aware that they have a limited time to replace their tyre, and so they drive within the limits of their deflated tyre (see our section on tyre pressure for more detail)
Vehicle Suspension
You should also note that you may need some changes made to your vehicle's suspension. Because of their stiffer construction, run flat tyres contribute to a vehicle's suspension when fitted as original equipment.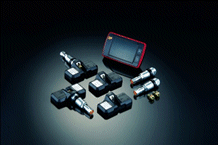 Industry Views on Replacing Run Flat Tyres with Conventional Tyres
BTMA
The BTMA (2005) stated that retro-fitting conventional tyres in place of run flat tyres would:
'remove the run-flat capability, potentially leaving the driver immobile in a case of deflation and could compromise vehicle handling. It is therefore recommended to consult with the vehicle manufacturer before replacing SSTs with conventional tyres'.
BMW
BMW promote run flat technology because of its advantages for driver comfort and safety. They point out that when run flat tyres are fitted as original equipment, the vehicles' braking, and suspension are set up accordingly. Changing to conventional tyres could then affect the handling characteristics of your car. However, they do say it is possible to fit conventional tyres.
TyreSafe
Tyresafe recommends that drivers do not change their vehicle setup from run flat tyres to conventional, because of the adverse effects this could have on vehicle handling due to the vehicle set up.
Run Flats on Vehicles Towing Caravans/Trailers
If your car is fitted with run flats and you are using it to tow another vehicle, then extra care must be taken. The extra weight of a towed vehicle puts any run flat tyre under additional stress. Even if you observe the speed limit set by your run flat tyre manufacturer, there could still be problems with the stability of your car and towed vehicle.
To keep safe, it is recommended that you reduce the overall speed and distance travelled on a punctured run flat. Check with your vehicle manufacturer.
Winter run flat tyres
We stock a wide range of winter tyres that use run flat designs. Winter tyres help provide extra grip and performance in temperatures below 7 degrees Celsius. A wide-groove pattern prevents any snow or ice from clogging the tyre tread, allowing for higher levels of traction and improved safety in difficult conditions.
4x4 run flat tyres
4x4 tyres provide excellent traction across many difficult terrains. The run flat design provides extra safety when using 4x4 tyres, as if the tyre were to puncture, you'd be able to drive a short distance to get home or to a garage for repair.
Why buy run flat tyres from National?
Best choice: You can enjoy the best choice of run flat tyres and prices online because we're the largest fast-fit tyre specialists in the UK. You'll find budget and premium tyres from big-name brands.
Over 50 years of experience: We've been tyre experts for over half a century so our technicians know what they're talking about when it comes to run flat tyres.
Highly rated: Exceptional customer service is at our core, but you don't need to just take our word for it.
24/7 call centre and live chat: We're always on hand to help if you have a question so don't hesitate to give us a call or use our live chat. You can also check our FAQs or fill out our contact form.
Mobile fitting: If you can't visit your local branch, take advantage of our flexible mobile tyre-fitting service. It's available all year round and our technicians will come to your home at a time that suits you!
Fast-fitting nationwide service: Visit us at one of our 200-plus branches located throughout the UK to see our fast-fitting service in person.
Price promise: We're determined to never be beaten on cost, so we check our competitors' prices daily. You can also use our Payment Assist scheme to spread the price of your run flat tyres.
Top FAQs About Run Flat Tyres
There is plenty to consider when it comes to picking the best run flat tyres for your vehicle. We've put all the need-know information together in our FAQs section below, but if you don't see your question below, get in touch with our experts.
Buy run flat tyres from the UK's largest fast-fit tyre service
If you've found the right run flat tyres for your vehicle, use our registration tool at the top of the page to get started. Don't forget that you can also visit us at your local National branch or get in touch using our online contact form.