BUY NOW and take advantage of our SPECIAL ONLINE PRICES
Buy Tyres Online Today - Free Fitting
We supply top brand tyres such as Bridgestone tyres, Pirelli tyres, Dunlop tyres, Continental tyres, Goodyear tyres and Michelin tyres, as well as mid-range alternatives including Avon tyres, Firestone tyres and Yokohama tyres, and exclusive mid-range brands such as Sailun tyres. We've also got a range of quality budget brand tyres. We have the biggest range of tyres in stock at the lowest tyre prices online, ready to fit while you wait.
Search for a tyre by the make and model of your vehicle.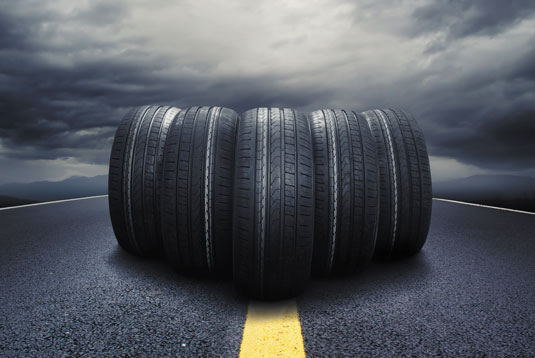 Original Equipment Tyres
We stock Original Equipment tyres (O.E.) for the majority of makes and models and our branch staff can recommend the best tyre for your vehicle including Alfa Romeo car tyres, Aston Martin car tyres, Bentley car tyres, BMW car tyres, Chrysler car tyres, Citroen car tyres, Fiat car tyres, Ford car tyres, Honda car tyres, Jaguar car tyres, Land Rover tyres, Lexus car tyres, Mazda car tyres, Mercedes car tyres, Mini car tyres, Mitsubishi car tyres, Nissan car tyres, Peugeot car tyres, Porsche car tyres, Renault car tyres, Range Rover tyres, Rover car tyres, Saab car tyres, Subaru car tyres, Toyota car tyres, TVR car tyres, Vauxhall car tyres, Volkswagen car tyres and Volvo car tyres.
What type of tyres to choose?
The tyre you need depends greatly on the kind of car you drive and the type of driving you do. If you drive short distances in and around town on the school run or to the local shops then economy and safety will be a primary concern when choosing a tyre. If you do a lot of motorway driving then low noise, comfort and fuel saving might be factors in helping you find the right tyre. Drivers with luxury cars and sports cars will be interested in high performance tyres, which offer precision handling, excellent traction and manoeuvrability at speed.
At National we can advise you on the right car tyre for your driving requirements, and at a low tyre price that won't break your budget.
Click here to learn more about tyre construction and design.
Our Price Promise to you
Our tyre prices are the best in the business – and the National Price Promise means we won't be beaten on price, guaranteed. If you can find the same tyre in stock locally at a lower price, then we promise to match that competitor's quotation. Claims are valid against written quotations from any similar retailer excluding trade, internet or wholesale operations or products already on promotion and must relate to the same product, part and manufacturer (including guarantees).
Click here to search for your tyres online for the lowest tyre prices at unbeatable value
Tyre Safety
Tyres are one of the most important components of a vehicle. The tyre tread area making contact with the road is relatively small– only about the size of the palm of your hand - so if your tyres are worn or damaged it can seriously affect your car's safety and handling. Not only that, if your tyres don't meet legal requirements, you could face a fine of £2,500 per tyre and 3 penalty points on your licence.
That's why it's important to check tyre tread depth, general tyre condition and tyre pressure to ensure your tyres are safe for the roads.
Tread depth must be above the legal minimum of 1.6mm throughout a continuous strip in the centre three quarters of the tread and around the entire tyre circumference. At National, we support the 3mm campaign which recommends motorists replace their tyres when the tread reaches 3mm for utmost safety when driving especially in the wet at high speeds.
Tyres must be correctly inflated according to the vehicle manufacturer's recommendations in the vehicle handbook. Over-inflated tyres cause excess wear, shortening tyre life and can result in an uncomfortable ride; under-inflated tyres result in increased fuel consumption and faster wear of the tread shoulders plus increased chance of impact damage.
You should also inspect the general condition of your tyre for any sign of bumps, bulges or cuts which could cause a blow out when driving.
National recommends that motorists check tyre tread depth, condition and pressure on a monthly basis and before any long journeys – and if in doubt, come into your local National branch for a free tyre safety inspection. For more information, visit our tyre information pages.
Top 10 Questions About Tyres
How do I know when my tyres need replacing?
If you notice that your car is not performing as well in wet weather, that it doesn't handle or grip, or takes longer to stop when you brake then your tyres may need replacing. As tyre wear is a gradual process it can be hard to tell when your tyre needs changing which is why we recommend monthly tyre checks.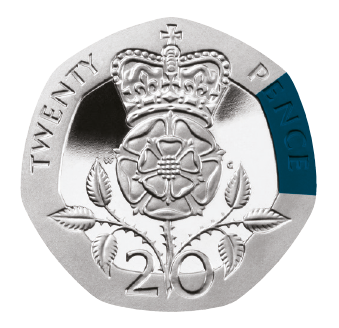 How do I measure tread depth?
A quick and simple way to check your tread depth is with a 20p coin. Insert the coin into the tread grooves at three separate places on your tyre. If you can see the outer rim of the 20p piece, then this could indicate that your tread is close to or below the legal minimum of 1.6mm and you should visit National to have your tyres checked. You should perform a quick visual inspection of the general condition of your tyres too.
Another way to check tread wear is the Tread Wear Indicators (TWIs) which many manufacturers now include within the tyre grooves. When the TWI is worn down, it indicates that the tread may be nearing the legal limit. However we do recommend that if in any doubt, you ask your local National tyre technician to check for you.
How important is tyre pressure?
The correct tyre pressure is very important; it helps your tyres last longer, provides a smooth, more comfortable ride and makes your fuel go that bit further, so the right tyre pressure helps you save money as well as improving safety. It also reduces carbon dioxide emissions which protects the environment. Did you know that 37% of cars run on tyres which are dangerously under-inflated? The correct inflation for these vehicles would save £440 million per year!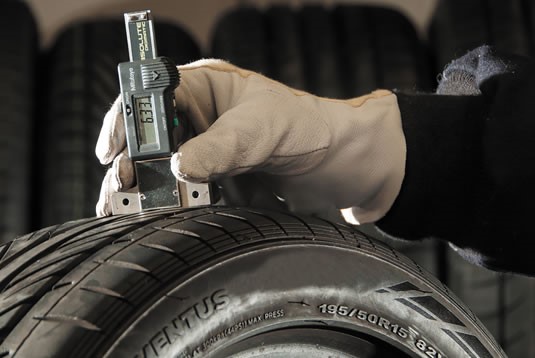 Should I repair a puncture?
Punctures can be repaired providing they meet with British Standard AU159. Upon inspection of the tyre, your National tyre technician will be able to advise you if your tyre falls into this category.
Tyres can only be repaired in the central area of the tyre (the part marked 'T') - the sidewalls are not repairable, and for V rated tyres and above, only one repair is allowed. However, before any repair is carried out, the tyre must be fully inspected for any signs of internal damage which could cause tyre failure.
Can I replace only one tyre at a time?
It's best to replace all four tyres at the same time; however this isn't always necessary if only one tyre is worn or damaged. However it can be beneficial replacing two tyres at a time and as a pair, either the front two tyres or the rear two tyres, for optimum handling and grip on each axle. All new tyres at National are balanced when fitted to maximise tyre life, fuel economy and for a smoother ride.
Our National technicians will advise you what you need and offer you the cheapest tyre price possible – and at National, rest assured, we'll never try to sell you a tyre if you dont need it.
What are Run Flat tyres and how do I know if my tyre is one?
Run Flat tyres are specially designed to allow you to drive for a short distance with a puncture, even when the tyre is completely flat. This is a temporary, emergency measure allowing the driver to get to a safe place to repair or replace the tyre. Run Flat tyres should not be driven above 30mph and for no longer than 50 miles.
Manufacturers include markings on the tyre tread to identify it as a Run Flat tyre; these differ from one tyre manufacturer to another. Common Run Flat markings include:
SSR

Continental's Self Supporting Run Flat Tyres (SSR)

ZP

Michelin's Zero Pressure Self Supporting Run Flat Tyres (SSTs).

Euforia @ (RSC)

Pirelli Run on Flat System Component (RSC)

RFT

Bridgestone Run Flat Technology (RFT)

RSC/RunOnFlat

Dunlop Run Flat System Component (RSC)

RSC/RunOnFlat

Goodyear Run on Flat System Component (RSC)

ROF – EMT

Goodyear RunOnFlat Extended Mobility Technology (ROF or EMT)
Can Run Flat tyres be repaired?
National do not recommend that Run Flat tyres be repaired after running in a deflated condition as the structural integrity of the tyre could be compromised which could lead to tyre failure.
Should I fit winter tyres?
Winter tyres are specially designed to perform in wet, icy weather and very low temperatures, as well as snowy conditions. They contain a higher percentage of rubber than standard tyres to ensure they maintain grip in low temperatures.
More motorists are opting to fit winter tyres, especially after the severe winters we have experienced in the UK over the last few years. Winter tyres could be a valuable asset if you live in a remote location which is hit with severe winter weather or if you do a lot of driving. However it is important to remember that regular tyre tread, pressure and general condition checks are essential for safety when driving, whatever tyres you have fitted.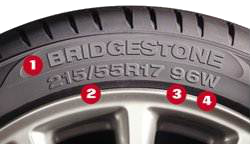 What do the markings on my tyre sidewall mean?
The sides of your tyres are marked with a code which identifies your tyre size. Here's a simple guide to help you identify the right tyres for your vehicle.
1 - This is the tyre manufacturer or brand name, e.g. Bridgestone, Pirelli, Michelin etc.
2 - This is your tyre size - you need to take a note of this to make sure you get the correct size of tyre to fit your vehicle.
215 is the width in millimetres of the tyre's cross-section.
55 is the 'aspect ratio' – the ratio of the sidewall height to the tyre's cross-section width.
R stands for radial-ply construction (nearly all tyres are of radial-ply construction).
17 stands for the diameter (in inches) of the wheel that the tyre is designed to fit.
3 - 96 is the load index which corresponds to the maximum load a tyre can carry at full speed (indicated by its speed rating – below). To find out your load index, locate the number on the sidewall of your tyres and refer to the load index table on our information page.
4 - W is the speed rating which indicates the maximum speed for the tyre when the vehicle is at full load. Generally, maximum tyre speed is rated in alphabetical order. However, W and Y rated tyres are a special case as they can operate at higher maximum speeds than older Z rated tyres. It is therefore safe to replace your current Z rated tyres with W or Y rated tyres.

To find out your speed rating, locate the letter on the sidewall of your tyres and refer to the speed index table on our tyre sidewall pages.

Being able to identify the tyre size, load index and speed rating allows you to choose the correct tyre for your vehicle.
Additional Markings - Tyres have a number of additional markings, including dot codes and also fitment codes.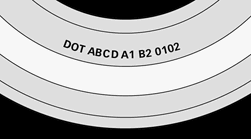 Dot Codes and Tyre Age
Each tyre carries a DOT code comprising of 11 or 12 letters and numbers. The last four digits identify the age of the tyre, e.g. '0102' shows that the tyre was manufactured in the first week of 2002. Date of manufacture is important because as tyres get older they deteriorate – even if they have been hardly used. For example, vintage cars or caravans which are stored for long periods and not driven regularly could deteriorate over time. When this happens the tyres need to be replaced. If you are unsure, ask for your free tyre check at National today.
Fitment Codes
Fitments codes are stamped on the tyre to help identify any special features making it better suited for certain driving styles or vehicles, e.g. if your tyre is stamped with 'MS' this means that it is suitable for mud and snow conditions. See the list below for common fitment codes and an explanation of what they mean:
RE

Reinforced

RF

Run Flat

XL

Extra Load

WW

White Wall

OW

Outline White Lettering

MS

Mud and Snow

AS

Asymmetric

NO

Porsche Fitment

N1

Porsche Fitment

N2

Porsche Fitment

N3

Porsche Fitment

C1

Chrysler Fitment

K1

Ferrari Fitment

B

Audi/Bentley/Continental GT Fitment

G1

Various Fitment

A

Renault Espace 4 Fitment

*

BMW Fitment

MO

Mercedes Fitment

J

Jaguar Fitment

6PR

6 Ply

8PR

8 Ply

10PR

10 Ply
Why upsize tyres?
Changing or upsizing your tyres is one of the simplest ways to upgrade the performance of your vehicle as well as improve the aesthetics.
While the manufacturer selects the correct tyre for your vehicle, the decision can be a compromise between performance, noise and comfort. Therefore upsizing your tyres can provide the following benefits:
Improved response to change in direction
Greater contact area with the ground for a smoother ride
Improved traction
Better control and handling
A sleeker, more modern appearance
Ask your National tyre technician for advice on tyre upsizing.
Tyre Recycling
National is committed to looking after the environment and its natural resources. National is a keen supporter of green initiatives like tyre recycling and finding the most environmentally friendly ways of disposing of tyres and waste materials.
National adheres to the Duty of Care Regulations, which are part of the Environmental Protection Act 1990 & Special Waste Regulations 1996. National only employs the services of licensed waste disposal carriers who must be registered with the Environment Agency and comply with the requirements of the Waste Management Licensing Regulations 1994.
National's policy is to 'reduce', 're-use', 'recycle' and 'recover' and only uses landfill as a last resort.
More great reasons to visit National Tyres and Autocare
The best choice of tyres and tyre prices online, from budget to premium, big names to quality, private brands
Highly qualified tyre technicians providing honest advice and expertise
Great guarantees on all products
Over 240 branches nationwide for maximum convenience
We put the fast in fast-fitting!
Click here to search for your tyres online for the lowest tyre prices at unbeatable value
Original Equipment Tyres
We stock Original Equipment tyres (O.E.) for the majority of makes and models and our branch staff can recommend the best tyre for your vehicle including Alfa Romeo tyres, Aston Martin tyres, Audi tyres, Bentley tyres, BMW tyres, Citroen tyres, Daewoo tyres, Daihatsu tyres, Fiat tyres, Ford tyres, Honda tyres, Hyundai tyres, Isuzu tyres, Jaguar tyres, Land Rover tyres, Lexus tyres, Mazda tyres, MCC-Smart tyres, Mercedes tyres, Mitsubishi tyres, Nissan tyres, Peugeot tyres, Porsche tyres, Proton tyres, Renault tyres, Rover tyres, Saab tyres, Seat tyres, Skoda tyres, Subaru tyres, Suzuki tyres, Toyota tyres,TVR tyres, Vauxhall tyres, Volkswagen tyres and Volvo tyres.
Budget v Premium Tyres
The following article looks at the difference between budget and premium tyres: Budget Tyres or Premium Tyres: Comparison.