Find Premium, Mid-Range or Budget Tyre Brands
Tyre Brands - Mid-Range, Premium and Budget Tyres
At National Tyres and Autocare, we stock a number of tyres from a wide range of tyre manufacturers. Whether you are looking for premium tyres from tyre manufacturers such as Bridgestone or Pirelli, mid-range tyres from manufacturers such as Avon and Sailun or budget tyres from Autogreen or Rovelo, at National we have a fantastic range of tyres, to suit your needs, no matter the budget available to you.
Premium Tyre Brands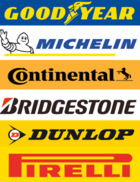 If you are looking at purchasing premium tyres, you can rest assured that you will receive value for money in return. Premium tyre manufacturers invest a large amount of research and development into continuously improving and manufacturing the best tyres available in the UK tyre market. There are a number of specific areas which premium tyre manufacturers focus on such as improved fuel efficiency, vastly reduced stopping distances and greatly improved wet weather performance. Premium tyres are generally the most expensive, however, due to the rubber compounds used, the longevity of tyre is extended to ensure you get the perfect blend between performance levels and value for money. At National, we stock premium tyres from the following premium tyre manufacturers: Bridgestone, Continental, Dunlop, Goodyear, Michelin and Pirelli.
Mid-Range Tyre Brands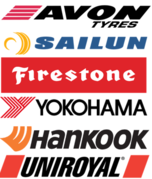 If you are looking at purchasing mid-range tyres, then you can be certain that despite being generally cheaper than premium tyres, that you still get excellent performance benefits. For outstanding mid-range alternative tyres to fit your budget, you can rest assured that characteristics such as improved grip levels, increased performance on wet roads and enhanced tyre longevity will all occur when purchasing mid-range tyres. Mid-range tyres are the perfect tyres for every-day usage and have undergone extensive research and continuous development to fit that perfect blend between price and performance. At National, we stock a number of mid-range tyres from some of the most prestigious mid-range tyre brands within the UK tyre market such as Avon, Firestone, Hankook, Sailun, Uniroyal, Apollo and Yokohama.
Budget Tyre Brands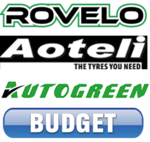 Despite budget tyres generally being the cheapest, this doesn't mean that they are low in quality. Budget tyres could actually be the perfect tyres for you if you are a driver who does not use their car regularly or only for short journeys. Budget tyres are a great way of saving money, especially if you were considering part-worn tyres, which we would strongly advise against. Budget tyre manufacturers ensure that the performance and quality of budget tyres are maintained at the highest level. This is to ensure the price can be kept to a minimum without any compromise in quality. All of our budget tyres sold at National Tyres and Autocare meet mandatory safety standards and are all covered by manufacturer guarantees. At National Tyres and Autocare, we stock a number of excellent budget tyres from budget tyre brands such as Autogreen (our most popular budget tyre), Aoteli and Rovelo. We also sell budget tyres under our 'budget tyres' category, which will include tyres from some of the most reputable budget tyre manufacturers such as Tigar tyres, Wanli tyres, Nankang tyres, Lanvigator tyres, Westlake tyres, Fortuna tyres, Minerva tyres and many other budget tyre brands.