Your safety is our concern - every vehicle that comes to our branches is offered a FREE visual safety inspection
Book a FREE safety check online.
Free Vehicle Safety Checks - Book Online
Your safety is our concern - that's why every vehicle that comes into one of our branches is offered a complimentary visual safety inspection comprising of a FREE repairs Check, a FREE tyre inspection and a FREE brake check.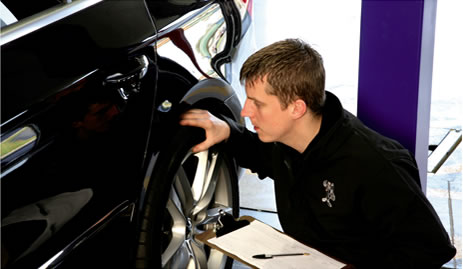 The visual safety inspection is carried out by one of our skilled technicians. It's all part of our service to you to ensure that your car is as safe and reliable as it can be and is completely FREE without any obligation.
Naturally, you will receive feedback regarding our safety inspection and our technicians are available to provide advice on technical matters if you wish.
All our technicians are trained to City & Guilds standards and as members of the NTDA (National Tyre Distributors Association) and founding members of the charity TyreSafe, nobody tries harder than National to ensure our customer's safety.
Please Note: Not all services are available at all centres.
Book an inspection by hitting the green button at the top of this page. With one click you'll benefit from the following checks.
What we check and why:
Free Tyre Inspection
Did you know that almost 20% of cars have illegal tyres? During the tyre inspection, we'll check three key areas to ensure that your tyres are safe and legal for driving.
Tyre Condition
Tyres are susceptible to faults and damage could compromise your safety whilst driving. During the check, we'll look for any cracks, lumps, bumps or cuts in your tyre, all of which could lead to a tyre blowout. We'll also check for any stones or nails in your tyre, to help prevent any punctures.
Tyre Pressure
Incorrect tyre pressures can reduce your tyre life by up to 25% and increase your car's fuel consumption by as much as 5%. That's why you'll see us check and if necessary, adjust your tyre pressures. Correctly inflated tyres will provide you with optimal handling and braking, allowing for full performance out of your vehicle.
Tyre Tread
If the tyre tread on your tyre is below the legal limit of 1.6mm, you could receive 3 points on your licence and a £2,500 fine. During the free tyre inspection, we'll check your tread depth to ensure your tyres are safe and legal. The four postcard-sized 'footprints' of your tyres are your only contact with the road, that's why we check all of your tread depths, including the spare.
Free Repairs Check
Does your car make a worrying noise that you can't identify? Book our free repairs check, we'll inspect the car to help put your mind at ease. We will check for any mechanical faults, carry out a road test and recommend any necessary repairs.
Diagnostics
We will check your vehicle's dashboard for any warning lights. Where a warning light is present we will advise that one of our technicians carries out a diagnostic check using our specialist diagnostic equipment. This service would normally carry a small charge but would be discussed with you before any further investigations took place.
Advancements in technology mean today's cars are fitted with hundreds of sensors all feeding information back into the ECU (engine control unit). That said, it is often difficult to diagnose what the issues are when a light is illuminated without professional help and the use of the diagnostic tools.
Free Brake Check
The most important safety component of a car is its braking system. Brakes can deteriorate over time, which could lead to a number of problems including:
Soft brake pedal
Car pulling to one side under braking
Squeaky brakes
Juddering under braking
Warning light on the dashboard
When booking a free brake check, we'll visually examine your brakes for any faults. We'll check the pads, discs, hoses, pipes and callipers to ensure your brakes are working as expected. This will ensure safe driving and make sure you can stop safely when required.
Please note that due to the additional time required to check the shoes, drums, cylinders and brake fluid, an additional charge will be made for this service. This charge will be agreed with you in advance of the work being carried out.