Your safety is our concern - every vehicle that comes to our branches is offered a FREE visual safety inspection
PHONE FREE
0808 271 4123
OR BOOK ONLINE
Free Vehicle Safety Checks - Book Online
Your safety is our concern - that's why every vehicle that comes in to one of our branches is offered a complimentary visual safety inspection.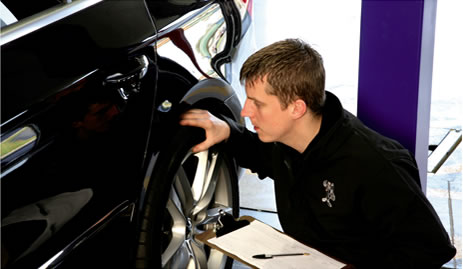 The visual safety inspection is carried out by one of our skilled technicians. It's all part of our service to you to ensure that your car is as safe and reliable as it can be and is completely FREE without any obligation.
Naturally, you will receive feedback regarding our safety inspection and our technicians are available to provide advice on technical matters if you wish.
All our technicians are trained to City & Guilds standards and as members of the NTDA (National Tyre Distributors Association) and founding members of the charity TyreSafe, nobody tries harder than National to ensure our customer's safety.
Please Note: Not all services are available at all centres.
What we check and why:
On the floor
Tyre condition
Did you know that almost 20% of cars have illegal tyres? Illegal tyres can cost you a £2,500 fine and 3 penalty points each - the legal limit is 1.6mm in a continuous band across the central ¾ of the tyre. The four postcard sized 'footprints' of your tyres are your only contact with the road, that's why we check all of your tread depths, including the spare.
Incorrect tyre pressures can reduce your tyre life by up to 25% and increase your car's fuel consumption by as much as 5%. That's why you'll see us check and if necessary, adjust your tyre pressures.
TPMS
TPMS (Tyre Pressure Monitoring System) is either a valve fitted to each wheel which senses when the tyres are losing pressure or a complex system that detects changes in individual wheel speeds and signals the ECU (engine control unit) prompting a warning light to display on the dashboard. This informs the motorist that the tyre pressure (PSI/BAR) has potentially dropped and attention is needed.
Where sensor valves are fitted, these will be checked during the safety inspection for signs of wear and tear as replacement valves can be costly.
Battery
Did you know that flat or faulty batteries are the no.1 reason for an AA call out? To prevent the inconvenience and disruption that a flat battery can cause, you'll see us test your battery's charge and check its general condition including the terminals and mountings.
Oil
Oil lubricates your engine protecting it from friction caused by moving parts and ultimately preserves the life of the engine by minimising wear. You can never check the oil level too often. We recommend the oil is changed regularly, at least within manufacturers service recommendations to keep the engine clean and clear of particles produced by the combustion process.
During the safety inspection we will check that the oil levels are sufficient to keep your engine running smoothly.
Diagnostics
We will check your vehicle's dashboard for any warning lights. Where a warning light is present we will advise that one of our technicians carries out a diagnostic check using our specialist diagnostic equipment. This service would normally carry a small charge but would be discussed with you before any further investigations took place.
Advancements in technology mean todays cars are fitted with hundreds of sensors all feeding information back into the ECU (engine control unit). That said, it is often difficult to diagnose what the issues are when a light is illuminated without professional help and the use of the diagnostic tools.
Wiper Blades
Wiper blades are checked for cracks, deterioration in the rubber and to see if the blades are bent. This is important as visibility is an area checked during a routine MOT test with some 7% of MOT's failing due to visibility issues.
Bulbs
Another area checked during an MOT test is bulbs. For the safety of yourself and other road users it is vital that your vehicle's lights are working. At National we will check the operation of each bulb to check that they are functioning correctly and not damaged, misaligned or discoloured. Vehicle external lighting plays an important part in road safety and any defects could result in fixed penalty fines or defect notices being issued by the police or MOT failure.
On the ramp
Shock Absorbers
A recent RAC survey found 25% of vehicles had one or more deficient shock absorbers, causing an increase in braking distances of over 11% or 22.5 feet at 70mph! That's why we give them a complete visual inspection, checking for leaks and general wear and tear.
Exhausts
Did you know that when you start your engine especially in the cold, significant amounts of water and corrosive chemicals are produced? These corrosive elements gather in the silencer boxes and attack the metal from the inside, which can lead to holes developing. Your exhaust system will be given a general inspection including the fixing clamps and brackets.
Brakes
The most important safety component of a car is its braking system. Loss of braking performance takes place over a period of time. That's why we visually examine the pads, discs, hoses, pipes and callipers to ensure there are no obvious defects.
Please note that due to the additional time required to check the shoes, drums, cylinders and brake fluid, an additional charge will be made for this service. This charge will be agreed with you in advance of the work being carried out.

Customer comments
"Went on internet, booked car in for free brakes test, found this very simple to do and arrange"
Kevin Mason
---
"National – the one to trust! Carried out a detailed check of my car, from brakes to visual safety inspection and fitted new tyres. Picked up on a couple of issues that needed looked at and provided full quote with no obligation."
J Dawson