Your safety is our concern - every vehicle that comes to our branches is offered a FREE visual safety inspection
PHONE FREE
0808 271 4123
OR BOOK ONLINE
Free Vehicle Safety Checks - Book Online
Your safety is our concern - that's why every vehicle that comes in to one of our branches is offered a complimentary visual safety inspection.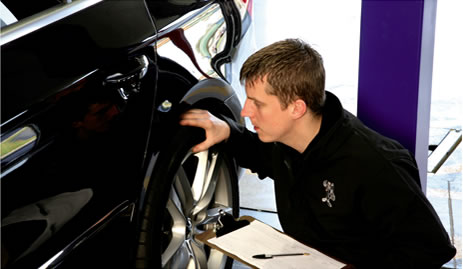 The visual safety inspection is carried out by one of our skilled technicians. It's all part of our service to you to ensure that your car is as safe and reliable as it can be and is completely FREE without any obligation.
Naturally, you will receive feedback regarding our safety inspection and our technicians are available to provide advice on technical matters if you wish.
All our technicians are trained to City & Guilds standards and as members of the NTDA (National Tyre Distributors Association) and founding members of the charity TyreSafe, nobody tries harder than National to ensure our customer's safety.
Please Note: Not all services are available at all centres.
Book and inspection by hitting the green button at the top of this page. With one click you'll benefit from the following checks.
What we check and why:
Free Tyre Inspection
Tyre condition
Did you know that almost 20% of cars have illegal tyres? Illegal tyres can cost you a £2,500 fine and 3 penalty points each - the legal limit is 1.6mm in a continuous band across the central ¾ of the tyre. The four postcard sized 'footprints' of your tyres are your only contact with the road, that's why we check all of your tread depths, including the spare.
Incorrect tyre pressures can reduce your tyre life by up to 25% and increase your car's fuel consumption by as much as 5%. That's why you'll see us check and if necessary, adjust your tyre pressures.
Free Repairs Check
Does your car make a worrying noise that you can't identify? Book our free repairs check, we'll inspect the car to help put your mind at ease. We will check for any mechanical faults, carry out a road test and recommend any necessary repairs.
Diagnostics
We will check your vehicle's dashboard for any warning lights. Where a warning light is present we will advise that one of our technicians carries out a diagnostic check using our specialist diagnostic equipment. This service would normally carry a small charge but would be discussed with you before any further investigations took place.
Advancements in technology mean today's cars are fitted with hundreds of sensors all feeding information back into the ECU (engine control unit). That said, it is often difficult to diagnose what the issues are when a light is illuminated without professional help and the use of the diagnostic tools.
Free Brake Check
Brakes
The most important safety component of a car is its braking system. Loss of braking performance takes place over a period of time. That's why we visually examine the pads, discs, hoses, pipes and callipers to ensure there are no obvious defects.
Please note that due to the additional time required to check the shoes, drums, cylinders and brake fluid, an additional charge will be made for this service. This charge will be agreed with you in advance of the work being carried out.

Customer comments
"Went on internet, booked car in for free brakes test, found this very simple to do and arrange"
Kevin Mason
---
"National – the one to trust! Carried out a detailed check of my car, from brakes to visual safety inspection and fitted new tyres. Picked up on a couple of issues that needed looked at and provided full quote with no obligation."
J Dawson