Book our comprehensive Engine Diagnostics Check for complete peace of mind
PHONE FREE
0808 271 4123
OR BOOK ONLINE
Car Diagnostic Test - Check Dashboard Warning Lights for £30
Has a warning light or car fault code appeared on your dashboard? This can be very worrying, especially if the engine light appears!
Today's vehicles are far more advanced and have hundreds of sensors around the vehicle that report back to the Engine Control Unit or ECU. Some warning lights and error codes can be very difficult to diagnose, that's why it's important to get these checked by a professional.
At National, we can help diagnose fault codes, with our state-of-the-art Engine Diagnostics Tool the 'SensorPad 8'. This diagnostic tool connects via Bluetooth to your on-board computer and any issues will be reported back with an error code.
All our branches have car diagnostic tools and our branch technicians will endeavour to identify faults and fix if possible, without the need to take your vehicle back to the motor dealer.
Please don't ignore a warning light on your vehicle's dashboard, it could become a bigger problem later. To find out what each dashboard warning light means, please click on the related article below.
How does a Diagnostic Check work?
Our state-of-the-art car diagnostic tool the 'SensorPad 8' connects to your vehicle's communications interface (VCI) via Bluetooth and this is then plugged into the vehicle's on-board diagnostics port (usually located on the underside of your dashboard).
The SensorPad 8 will read the Engine Control Unit's fault codes and sends a report back. The tool can turn off fault lights when a fault has been fixed.
The SensorPad 8 can also perform actuator tests to make sure that certain components are working and getting signals from the ECU, it can re-programme components to rectify faults, re-set service lights (following a service) and wind back brake callipers on vehicles with electronic handbrakes so that the rear brake components can be accessed.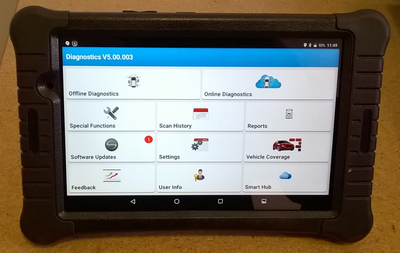 Diagnostic Health Check
Not all vehicles display warning lights or fault codes when something goes wrong and an Engine Diagnostic Scan can give an early warning indicator of problems which may develop in the future.
At National, we offer a 'Diagnostic Health Check' for just £30, which scans all the modules on your vehicle and can highlight any car faults. The scan includes;
ECM (Engine Control Module)
TCM (Transmission Control Module)
ABS (Anti-Lock Braking System)
BCM (Body Control Module)
IMM (Immobiliser)
TPMS (Tyre Pressure Monitoring System)
SAS (Steering Angle System)
Lighting and Comfort Control System
Emissions Levels
What does a Diagnostic Check include?
The diagnostic check will include a full system health check. The tool will identify all modules connected to your vehicle's Engine Control Unit (ECU) and individually check for any stored or current faults.
The tool will identify if the fault is 'Current' or 'Stored/Historic' – any stored or historic faults will be cleared from your vehicle's ECU memory. Any current faults will indicate that something is not as it should be, and in most circumstances, we should be able to advise what work may be required.
The diagnostic check does NOT include the cost of repairs, replacement parts, recoding, etc. Where we are unable to offer a suitable repair (i.e. electrical system faults) we provide you with the fault codes that should enable you to obtain repair quotations from a specialist.
Engine management lights may not extinguish if a fault identified is not rectified.
How much are car diagnostic tests?
Our Diagnostic Health Check is just £30 and can be booked online today. Simply hit the green button at the top of the page to add to your basket.
Please note additional charges may apply in branch if extra parts or services are required to fix underlying problems and to clear fault codes and re-set service lights.
Other Frequently asked questions about car diagnostic tests