Let us help keep you
on the road with one of our
NEW Service Plans
Phone now 0808 271 4123
OR click here for an INSTANT SERVICING QUOTATION
Servicing Pricing
Servicing pricing will depend on which car service you select; whether that be a full service, an interim service or an express service.
The price of your car service will depend on the engine size of your vehicle (please see the table below).
Can be included in our Payment Assist option* to help spread the cost over four months
An additional £10 surcharge is applicable if synthetic oil is required.
If your vehicle requires a sump tray to be removed in order to carry out the service, either a £5 or £10 charge will be added. This depends on the size of the tray.
| Car Service Type | 0cc-1400cc | 1401cc-2000cc | 2001cc-3000cc | Over 3000cc |
| --- | --- | --- | --- | --- |
| Express Service | £60.95 | £65.95 | £70.95 | £75.95 |
| Interim Service | £90.95 | £110.95 | £116.00 | £146.00 |
| Interim Service and MOT | £118.37 | £138.37 | £143.42 | £173.42 |
| Full Service | £150.95 | £178.00 | £201.00 | £226.00 |
| Full Service and MOT | £178.37 | £205.42 | £228.42 | £253.42 |
Which car service is the cheapest?
The Express Service will be the cheapest car service that we are able to offer at any of our National Tyres and Autocare branches. The Express Service offers an extensive 25-point vehicle health service check, which also includes an oil and filter change. An Express Service is our cheapest servicing option and perfect for any drivers who are wanting that peace of mind to ensure that their car is safe to drive. You can book an Express Service at your local National Tyres and Autocare branch. If you would like to book an Express Service, which is our cheapest car service, then please click here to receive an instant quotation. However, if you choose either an Interim Service or a Full Service, you will be able to get an MOT for half price, saving you money in the long run.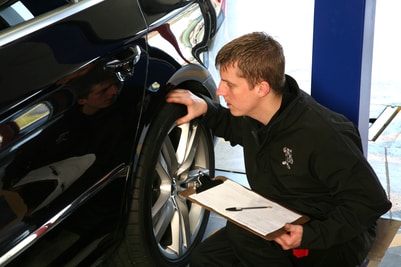 How much is car servicing?
If you are looking to service your car, at National Tyres and Autocare, we offer a number of car services that will fit your needs. You will be able to book in for an Express Service from £60.95. If you are taking your vehicle for a long drive and have reached the halfway point between your MOT, we would recommend an Interim Service. The price of an Interim Service is from £90.95 and this dependant on your engine size. If you are looking for a full comprehensive inspection of your vehicle, where we partake in a 51-point vehicle health service check, this is available from £150.95. Remember, if you are purchasing tyres, as well as a car service you will be able to take advantage of our Payment Assist plan. This helps spread the cost over four months however this is only available if your overall cost price comes to over £200. Due to this, if you are looking to save money on car servicing, we would recommend investing in some new tyres too (if needed, that is!), to ensure you can take advantage of our Payment Assist offering.
*- Payment Assist is only available on orders over £200. You can take advantage of Payment Assist with car servicing when additional work is also carried out- for example, purchasing tyres which would potentially take the value over £200.