SUV tyres from National
National Tyres and Autocare sell a wide range of tyres for SUV's. We have a great choice of economy tyres, including Autogreen tyres and Avon tyres. We also have a wide variety of premium brands, including Bridgestone tyres, Continental tyres, Dunlop tyres, Goodyear tyres, Michelin tyres and Pirelli tyres.
You can use the search tool above to find the perfect tyres for your SUV.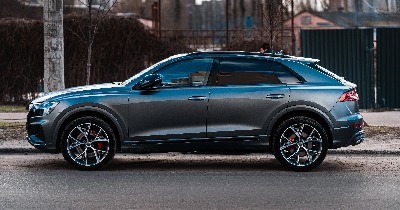 What are SUV tyres?
Tyres are crucial to how a car drives and handles. Having the correct tyres for your SUV will ensure high levels of safety, improve handling, and allow for maximum performance and traction.
SUV tyres are designed to carry an additional load whilst maintaining excellent levels of grip and handling. SUV tyres provide great rolling resistance, allowing for greater fuel economy. The tyres are able to carry an increased vehicle mass, helping support utility vehicles. This reduces the risk of punctures of flat tyres, allowing for maximum safety whilst driving.
How do SUV tyres work?
SUV tyres ensure that you get maximum fuel efficiency from your vehicle, despite the increased weight load. The tyre will be able to support the weight of the SUV without a loss in pressure, therefore maintaining the correct tyre pressure for your vehicle. This prevents the tyre's surface area from increasing, which would decrease rolling resistance. In turn, this would reduce fuel economy.
The tyre's ability to hold an increased weight load also means that it won't wear as quickly. If the tyre is under pressured, the surface area between the tyre and the road will increase, and therefore the tyre will wear quicker. SUV tyres will prevent this from happening, and therefore the tyre will provide high levels of grip and traction for longer.
Why are SUV tyres different to normal tyres?
SUV tyres are designed to carry a heavier weight, due to SUV's typically being heavier than standard cars. Normal car tyres may lose pressure if put on an SUV and therefore could compromise safety. Some SUV tyres are also designed for off-road conditions such as mud and gravel. These tyres will come with increased traction and thicker rubber to prevent any punctures.
Car tyres and SUV tyres share similar properties outside of those differences, with the key difference being weight. A normal car tyre wouldn't be able to support an SUV efficiently. However, an SUV tyre may be suitable for a car depending on other available options.
How to find the best SUV tyres for your vehicle?
In order to find the right tyres for your SUV, you will need to check the sidewall of your current tyres. Here, you should see some characters in a similar format to 205 55 R16 98W. These characters specify the tyre's width, profile, wheel size and speed rating. Any new SUV tyre that you purchase must match the current characters, otherwise, it may not fit on your wheel or be a safety hazard if it differs from the other tyres on the car.
You can also find your tyre profiles in your car's handbook and fuel cap.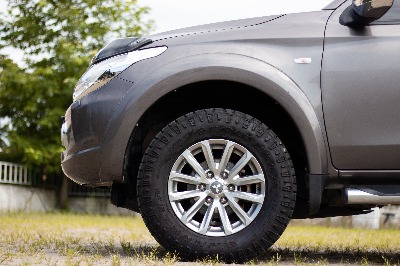 Summer SUV tyres
Summer SUV tyres are designed to be used in conditions above 7 degrees celcius. The rubber compound on summer tyres allows for increased grip and performance on dry roads in particular. The warmer temperatures will allow summer tyres to generate more grip whilst driving, in turn increasing traction and improving rolling resistance.
To see what summer SUV tyres we stock, you can use the search tool at the top of this page.
Winter SUV tyres
Winter SUV tyres are for when the temperature is below 7 degrees celcius. They are designed to provide extra grip in snowy and icy conditions, with a wider tread pattern to prevent the grooves from becoming clogged, and in turn, compromising grip.
You can use the search tool at the top of this page to find winter tyres for your SUV.
Run-flat SUV tyres
Run-flat SUV tyres allow the vehicle to continue driving for a short duration in the event of a puncture. Run-flat tyres are designed with a reinforced sidewall to prevent the tyre from collapsing, allowing you to drive a short distance in order to have the tyre repaired or replaced.
Budget SUV tyres
We stock many budget-friendly tyres for SUV's, helping you get maximum performance is a great value for money tyre. Our budget tyres include Autogreen and Avon, which both provide superb performance and fuel economy at an affordable price point.
To find affordable SUV tyres, use the search tool at the top of this page.
Premium SUV tyres
We also have a wide range of premium tyres for SUV's. This includes brands such as Bridgestone, Continental, Dunlop, Goodyear, Michelin and Pirelli. Premium tyres offer exceptional levels of performance and traction, allowing you to get every bit of power from your SUV.
To find premium tyres for your SUV, please use the search tool at the top of the page.
Frequently asked questions about SUV Tyres