BATTERY SEARCH
Enter your registration number
Do not forget to download our batteries discount voucher
Mobile Battery Fitting & Replacement
Following the purchase of National Tyres and Autocare by Halfords, we are delighted to announce that we are now able to offer mobile battery fitting to our customers. With our new mobile battery fitting service, which will be fulfilled by our sister company Halfords Mobile Expert, we are now able to fit your vehicle with a new battery at either your home or work at a time convenient to you.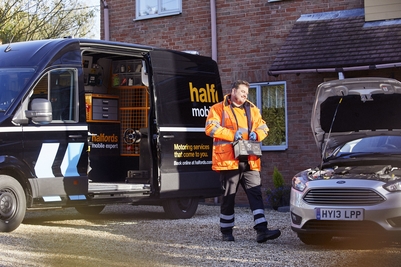 Book your mobile battery fitting replacement today online. You can select the right battery for your vehicle, select the best time and date to suit you and then purchase online. Get in touch with our team, talk to us on live chat, or call us on 0800 62 66 66 if you have any questions.
What is mobile battery fitting?
Mobile battery fitting is a convenient option for our customers, allowing you to have your new car battery fitted at a place and time that suits you, whether that be at home or work.
How to book a mobile battery fitting appointment?
If you are looking to book a mobile battery replacement, then you do this on our website. First off, head to the 'Buy Now' dropdown within the top navigation and select 'batteries'. You will then arrive on our batteries page. Alternatively, please enter your vehicle registration into the search widget at the top of this page.
From this page, you will need to enter your vehicle registration number in the search widget provided. You will then be presented with a number of suitable batteries that will fit your vehicle. All batteries presented will show you the features and technical details of each battery, giving you extra information to ensure you select the best and most suitable battery for your vehicle.
Once added to your basket, please review your purchase and proceed to the fitting location selector. From this page, you can enter your postcode, or alternatively select your location from the dropdown provided.
Once you have completed this action, if there is a mobile battery service present in your location, you will then be able to select this option. If there is no mobile battery service in your location, then you will need to book an in-branch appointment. Please note that if you are looking to use our mobile battery fitting service, then this will need to be the only item in your basket.
After you have selected to use our mobile battery replacement service, you will have the option to select a date and time which suits you.
The next and final step is to head to the checkout and complete your payment. Once your payment has been made, you will receive an order acknowledgement and our mobile battery fitting team will be in touch if any further details are needed.
What will happen on the day of my mobile battery fitting appointment?
Please ensure that your vehicle to parked in an accessible location so your mobile expert will be able to carry out the work as necessary. Ideally, this would be on a car driveway or car park, however, if you are parked on a public road, please ensure there is adequate room for the mobile fitter.
Ahead of your appointment, your mobile battery expert will give you a call around 15 to 30 minutes beforehand to let you know that they are on their way.
All of our mobile drivers, whether they be mobile tyre fitters or mobile battery fitters, follow strict COVID-19 protocols and your safety is our paramount concern. Due to this, once your mobile battery fitter has arrived, they will ventilate your vehicle and add disposable covers to the seats and steering wheel.
Your car battery will then be removed and your new car battery will be fitted. Your mobile fitter will take your old car battery with them to be recycled.
All disposable covers will then be removed and your car keys will be returned to you. If you would like to review the work carried out, your mobile fitter will wait at a safe distance until you have finished your inspection.
Operating Hours
Normal operating hours are 8.30am-5.30pm Monday to Friday and 8.30am to 12pm on Saturday. Service outside of these hours (if available) may incur an out of hours surcharge.
Book a Mobile Battery Fitting Appointment Online Today
If you are wanting to book a mobile battery replacement, then please click on the button below.
Alternatively, if you prefer, you can also have your car battery fitted at a National branch local to you. To book a battery replacement at your local branch, please click the button below.
If you have any questions about our mobile battery replacement service, then feel free to contact us via the Live Chat functionality on our website or alternatively, head over to our social media channels and drop us a message.
When should you replace your car battery?
There are a number of tell-tail signs that your vehicle needs a new battery. You may have a warning light on your dashboard indicating an issue with your battery. If you are unsure of what each car dashboard warning light means, then please click on the button below which will take you to an excellent blog post, letting you know what each warning light means.
Secondly, if you notice a loss of electrical power both inside and outside the vehicle, this is another key warning sign. If you have difficulty starting your vehicle, then this could also indicate that it is time for a new battery.
Battery Health Check
At National, we offer a FREE battery safety check which can be booked online, with the check taking place at a branch local to you.
Our free battery health check will be able to identify any underlying faults with the battery. If no underlying faults are found, this free check will give you that extra peace of mind. A free battery check is ideal if you are planning on driving a long journey or if you haven't driven your vehicle for an extended period of time.
At National, as part of our servicing packages, the condition of your battery and charging rates are checked as part of our Interim and Full Servicing packages.
Much like the free battery health check, if you are wanting to ensure that you have complete peace of mind that your vehicle is safe, then why not book in for a service at your local National branch? This can be booked online by clicking the button below.
It is also important to be aware that if you book either an Interim or a Full Service, then we offer an MOT as part of the package at a discounted rate.