BATTERY SEARCH
Enter your registration number
Van Batteries
Is your van reaching a certain age? Are you starting to find that it no longer starts as smoothly as it once did? It might now be time to start thinking about replacing your van battery. After all, you won't want to leave anything to chance – not least if you depend on your vehicle as part of your job – so, for all your van battery needs, call on the specialists at National Tyres and Autocare.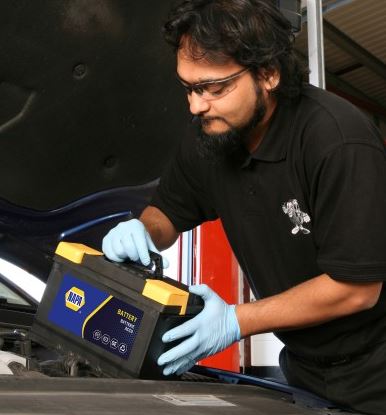 We offer a comprehensive range of van batteries to suit all makes and models. From affordable options through to premium batteries, we'll make sure that you get just the thing for which you're looking. You can find us in more than 250 locations nationwide – all of which have hundreds of batteries in stock ready for you. Our helpful team are also on hand to offer expert advice or a FREE battery check.
Use our free battery search tool above to find the perfect battery for your van. All you need to do is enter your registration number and the tool will do the rest.
Search by batteries by vehicle manufacturer here: Battery Search by Vehicle Manufacturer.
Is it time to replace my van battery?
We know that you don't want to replace a van battery if there's no need. There are, however, some helpful tell-tale warning signs that will let you know for sure if it's time for a replacement:
Warning lights on the dashboard: You may have a problem with your battery if the battery or engine warning light is showing on your dashboard. In the case of an engine warning light, this comes on because it provides low voltage to the on-board computer.
Your van engine is slow to start: Even a heavy-duty van battery will have a lifespan. You can tell if yours is coming to its end if you find that your engine is slow to start. This is caused by internal components starting to erode and fail.
Dimmed lights or electrical faults: As soon as a battery starts to fail, it no longer has the ability to properly power all your van's electrical systems. If things aren't working as they should be, then, this could be a sign that you have an issue with your battery.
There are other potential reasons why it might be time to replace your van battery. The sure way to find out, though, is by calling into your local National Tyres and Autocare for a free battery check.
Can I get my van battery tested?
It's so simple to get your van battery tested for potential issues or underlying faults. Either visit your local National Tyres and Autocare or book online for a free battery test. It only takes a few minutes and gives our battery experts a chance to check its voltage, start capacity and general condition. If there's anything not quite right, you can decide if it's time for a replacement.
By getting your battery checked, you can make an informed decision about whether you need a new one. Or it can help you to relax, safe in the knowledge that it'll keep your van on the road.
There are also some things that you can do by yourself. The latest vans all pack in new technological features and these can all put a strain on a battery so, if it's becoming a struggle to start your van, try switching off some of these features. Heated seats, infotainment systems, heated wing mirrors, mobile chargers and more – they all demand power from your van battery.
Of course, it might be that your test results suggest that a van replacement battery is in order. If so, don't worry. We're here to help you work out which battery you need for your van.
What gets tested as part of your battery check?
Voltage
Like car batteries, a van battery should give a reading of 12.6 volts. If it fails to reach this level, it'll either need recharging or replacing.
Start capacity
Your battery's ability to start from cold is a critical performance measure. At low temperatures, it must maintain 7.2 volts. In our test, this reading is displayed as a % of its start capacity. When this shows below 75%, this suggests that a battery isn't in its best condition and may cause issues.
General condition
The overall condition of your van battery is factored into our test, too. When you get the results, you'll have one of four outcomes:
Good Battery – you don't need to do anything.
Good Battery Recharge – your battery is in good condition but needs recharging. This can be achieved by going on a 45-minute journey.
Recharge Battery then Re-Test – your van battery is running low and needs recharging. We also recommend re-testing it again in 7 days' time.
Replace Battery – the battery is nearly at the end of its useful life and it's time to start thinking about getting a replacement fitted.
Which battery is right for my van?
The right choice of battery can be really important – but how do you know which battery is the one for your van? In the first instance, it can be a good idea to think about what it is for which you use your van. After all, a heavy-duty van battery will be best suited to those vehicles used regularly.
You can check your owner's manual for more information on the type and size of battery that you'll need and don't forget that we're also here to help. Put your registration number into our battery lookup tool on this page or why not call into your local centre and ask our experts for advice?
How much do van batteries cost?
The cost of keeping a van on the road is increasing so we understand that you want to know how much van batteries cost – and that you're getting value for money. At National Tyres and Autocare, our batteries range contains various options at different price points.
For vans, our prices start from as little as £119 – including fitting and disposal. You can get a full rundown of your options (together with cost) by using our battery search tool above.
To help with the cost of keeping you on the road, we offer flexible payment options through our Payment Assist plans. Not only that but our Price Promise means that only we offer the best prices.
Why choose National Tyres & Autocare?
Our aim at National Tyres & Autocare is to combine expert advice, the best products and value for money – all in one place. Here's what we can offer you:
A huge choice: The right van batteries for your van – no matter the make or model.
Free battery check: Make an informed choice – use our free battery health check to see if it's time for you to replace yours.
Incredible value: We offer great prices on all our van batteries – backed up by our Price Promise. You can also spread the cost with our Payment Assist plans.
250+ UK locations: You won't have to travel far to find your local National Tyres & Autocare centre. We have more than 250+ locations around the country.
We'll come to you: Not easy to get to one of our centres? No problem. Let us come and visit you thanks to our Mobile Battery Fitting service. Any time, any place.
Quality Guaranteed: No matter which van battery you choose, you'll be covered by either a four or five-year guarantee. See your sales invoice for your level of cover.
Trusted by customers: The service that we provide to our customers is something of which we're proud of.
Van Battery FAQs