With 1,000 experts fitting
100,000 exhausts a year,
National are able to offer
expert advice and the best
prices for your car.


Book a FREE exhaust check online.

Car Exhaust Repair & Replacement
Your car or van exhaust is one of the most important aspects of your vehicle. If you have any issues with your exhaust, this can result in a number of different problems which could lead to reduced fuel efficiency, increased exhaust and engine noise and also an increase in the harmful gases pumped into the environment.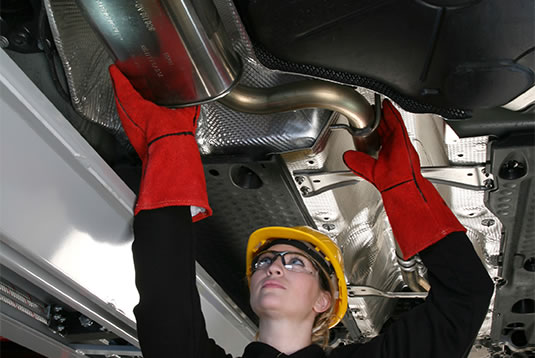 At National Tyres and Autocare we currently stock over 15,000 exhaust parts. We offer a FREE exhaust check if you are experiencing problems with your exhaust. A free exhaust check can be booked in at your local National Tyres and Autocare branch by clicking the 'Book an Appointment' button at the top of this page.
Identify Exhaust Problems
If you notice any of the following you should have your exhaust checked by a National expert to find out whether any components need replacing;
Free Exhaust Check
At National Tyres and Autocare, we provide a FREE exhaust check at a branch local to you. During this exhaust check, our highly trained staff will check whether there are any issues with the exhaust system, including checking the catalytic converter. During this exhaust check, our branch staff will be able to advise if any there are any concerns and if are parts need to be replaced. To book a free exhaust check, please click on the link at the top of this page to add an exhaust check to your basket.
Interim Service or Full Service
At National Tyres and Autocare, we now offer two different tiers of servicing. An Interim Service and a Full Service. During both of these levels of servicing, our branch staff will check the exhaust system and mountings.
Exhaust Guarantees
We offer a 2-year unlimited mileage guarantee on exhausts. We will offer a guaranteed free repair or replacement as long as you own the car for which the parts were purchased and fitted. This includes normal wear and tear and manufacturer defects when all of the parts were fitted by National Tyres and Autocare. Please read the terms and conditions below to find out more about National Tyres and Autocare's exhaust guarantee procedure.
Exhausts Price Promise
At National Tyres and Autocare, we regularly check our prices against our competitors. To ensure that we are never beaten on price, we offer a price promise for our customers. If you find the same product at a cheaper price than you have received at your local National branch within seven days of your purchase, we will match the competitor's written quotation.
How does an exhaust system work?
The exhaust is made up of numerous mechanisms including the exhaust manifold, the catalytic converter, silencer and the exhaust pipe. To ensure that the exhaust system works efficiently, all of these areas need to functioning correctly. The exhaust manifold will capture the gases from the head of the cylinder in the engine.
The exhaust manifold will then push these gases through the engine cylinders and then they are released through the exhaust pipe. The exhaust system consists of a number of pipes, which come in varied sizes. Each of these pipes connects to one another, and each is shaped to fit an exact part on the underside of the vehicle.
Each pipe helps move the gases to the back of the vehicle, the catalytic converter then helps convert the harmful gases into inert gases, the silencer will help minimise noise levels and the exhaust controls the output of these gases. The fumes will then exit the vehicle from the tail pipe. This ensures that the gases are pushed away and out of the vehicle.
What are the different parts of an exhaust system?
An exhaust system has no moving parts. The function of an exhaust system and its placement on either your car or van means it is a component that works extremely hard.
Toxic wastes within the exhaust system can lead to corrosion and rust. This negatively affects the metal within the exhaust system. This can lead to your exhaust becoming extremely noisy and could also lead to other potentially dangerous issues. If the noise levels of your exhausts are higher than the legal amount, this will lead to a fine.
In addition, a failed exhaust can cause leakages into the exhaust system. This can become a risk to the driver and passengers, causing a number of negative and dangerous side effects. Here are the key components of an exhaust system.
What can cause an exhaust system fault?