BATTERY SEARCH
Enter your registration number
Car Batteries
Think you need a new car battery? Look no further than National Tyres and Autocare. We offer an extensive range of products from which to choose. No matter the fitment or vehicle type, you can buy the car battery that you need from us. Each of our 250+ centres nationwide is stocked with hundreds of batteries and ready to fit them – all at a date and time that's convenient for you.
Our battery range has an option for everyone and every car – affordable batteries built to high specifications through to premium batteries. The choice is yours. Our best-value batteries are made by Napa – innovators in technology who produce quality batteries for original equipment (OE) fitment. Whatever car battery you're seeking, start your search with National today.
Enter your registration number into our battery search lookup above to find the right option for your car.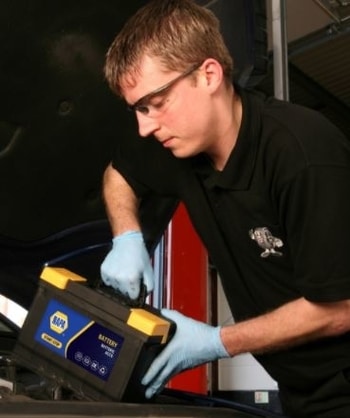 How do I know if my car battery needs replacing?
Not sure if it's time for a car battery replacement? There are a number of warning signs for which to look out, including
Dashboard warning lights: If either the battery warning light or the engine warning light is showing, this indicates that there is an issue – and you must get your battery tested ASAP. The engine warning light comes on because the battery provides low voltage to the car's computer. This will then trigger the engine and battery lights to come on.
Trouble starting your car: As a car battery gets older, the internal components often start to erode, making it less effective. This is noticeable when you turn the key and your car engine is slow to start.
Electrical issues or dimmed lights: Either of these will point towards an issue with a car battery. As a battery fails, it will lose its ability to power the car's electrical system.
How do I get my car battery tested?
At National, our technicians can carry out a FREE battery test. This only takes a few minutes – a quick and simple health check that can diagnose any underlying battery faults. The test involves checking the voltage, start capacity and condition of the battery.
A proactive car battery test can give you peace of mind and flag any potential faults before they become a problem.
The growing amount of in-car technology puts extra demands on your battery, too. If you have any issues with your car starting, try first turning off these features. This includes your heated windscreen wipers, mobile chargers, satellite navigation systems, heated seats, and heated wing mirrors – as well as any in-car infotainment systems.
Don't worry if our test reveals that you do need a car battery change. Our technicians are here to advise you on exactly the right option for your car.
How do we test car batteries and why?
Voltage
The voltage reading for a car battery should be 12.6 volts. If a reading shows lower than this, you'll need to recharge or replace your battery.
Start Capacity
As part of our test, we measure the starting ability of your battery from cold. It must maintain 7.2 volts at a low temperature – and the reading will be displayed as a % of the battery's start capacity. If the start capacity is below 75%, this indicates that the battery is starting to deteriorate. As such, you may experience problems with it.
General condition
The results of a battery test will be displayed as:
Good Battery – no action required
Good Battery Recharge – the battery needs recharging. This can be done by taking the car for a 45-minute journey to allow the battery to recharge
Recharge Battery then Re-Test – the battery is drained and in need of recharging. This will need to be re-tested again in seven days' time
Replace Battery – the battery is entering the end of its service life, so we recommend that you consider a car battery replacement as soon as possible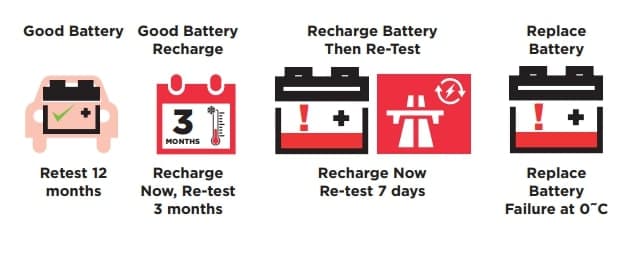 What battery do I need for my car?
It can be so important to know which battery is right for your car. The simple answer is that it depends on your usage but, with modern cars, there's an increasing need to think about how much electrical equipment is used inside your car.
Your owner's manual will tell you what battery size you need for your car. We can also help if you're not sure. Just put your registration number into our search tool at the top of this page.
What are the different types of car batteries?
How much is a car battery?
The cost of a car battery varies depending on the type you need. At National, prices start from as little as £61. All our prices include fitting and disposal.
For better idea of how much your next car battery may cost, enter your registration number in the battery search tool above. It'll show you which options are best for your car and how much they'll cost.
We understand that motoring issues can be an unwelcome expense. To make them as bearable as possible, we offer unbeatable prices guaranteed with our Price Promise scheme and flexible payment options with our Payment Assist plans.
Why buy car batteries from National?
We know that it can cost a lot to keep your car on the road – and that it's essential to get the right parts at the right price. That's why our aim is to provide the best value for money while offering excellent service and products that will last for a long time.
Here's why you can trust National when it comes to your car battery replacement:
All budgets, all makes: We have car battery options to suit every situation and vehicle.
Free battery check: Our battery health check gives you a chance to find out if there's an underlying fault with your battery that could become an issue.
Value for money: You can spread the cost of your new car battery with our Payment Assist scheme, while our Price Promise means that we'll never be beaten on price.
Nationwide coverage: We have more than 250 fitting centres located around the UK, so there's sure to be a branch that's local to you.
Mobile battery fitting: We can come to you – at home or at work – and fit your battery at a time and place that suits you!
Five-year guarantee: All batteries come with either a four- or five-year guarantee based on the type. The period for which you're covered will be printed on your sales invoice
Need help? Looking for more information? Please call us on 0808 256 5277.
Search by batteries by vehicle manufacturer here: Battery Search by Vehicle Manufacturer.
Car batteries: Essential FAQs
Car battery maintenance FAQs
Car batteries glossary