National Tyres and Autocare Elgin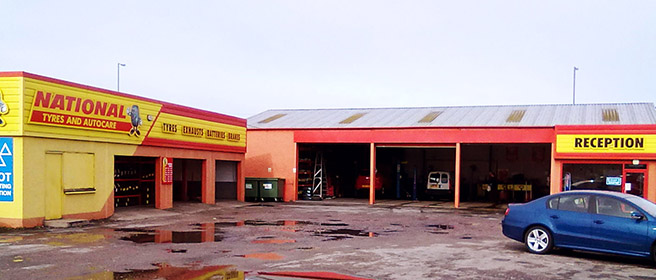 New Elgin Road, Elgin, Morayside IV30 6BA UK
Phone: 01343 569 234
(Opposite B & Q. Next to Asda.)
OPENING HOURS:
Monday-Friday:
08:30 - 18:00
Saturday:
08:30 - 17:00
BOOK ONLINE NOW. Save Time. Save Money.
About National Tyres Elgin
National Tyres and Autocare Elgin welcomes any motorists in need of services such as tyre fittings, car repairs, MOT checks and car services. This branch is situated just off the A941 at the address New Elgin Road, Elgin, Morayside IV30 6BA opposite the B&Q and next to the Asda.

Our opening times goes as follows –
Monday to Friday - 8.30am - 6:00pm
Saturday - 8.30am - 5.00pm

We offer a huge range of services at our garages including MOT checks. If you are in the Elgin area and your MOT is due, book one in on the National Tyres and Autocare website. It is illegal in the UK to drive your vehicle with an expired MOT. Sign up for our MOT reminder service and have the benefit of being reminded of your MOT expiry date and save 27% off your MOT at a price of £39.99.

Another service that we offer that is similar to an MOT is car servicing. Our car services come in three packages, Express, Interim and Full services. These packages are categorised by price and the detail in which the service is conducted. the Our cheapest package is the express service and most expensive being the full service.

National Tyres and Autocare Elgin also has the facilities and staff to deal with any repairs that your car may need. The repairs we offer are - Batteries, brakes, steering and suspension, exhaust, oil changes and engine treatments. We also provide a number of FREE checks to ensure that your vehicle is as safe as possible and identify any potential problems. These FREE checks include - Free tyre and pressure checks, free battery condition checks, free brake checks, free wheel alignment checks and a free visual safety check.

We also facilitate tyre fittings for customers who have purchased tyres from the National Tyres and Autocare website. It has also never been easier to purchase your tyres with our exclusive National Payment Assist spread the cost over 4 payments making it easy and affordable.

We also offer a range of repairs at the National Tyres and Autocare Elgin branch. If you are experiencing trouble with your car drop in branch or phone ahead on 01343 569 234 and speak to Branch Manager Raymond Vass or one of the team. Some of the areas that we cover with our repairs include - Batteries, brakes, steering and suspension, exhaust, oil changes and engine treatments.

At National Tyres and Autocare customer safety is at the top of our priorities. This is why we have fitted all of our branches with COVID secure measures and social distancing has been implemented.


Always informative. Explains everything in a clear manner. prompt service.
Jeanie