National Tyres and Autocare Chesterfield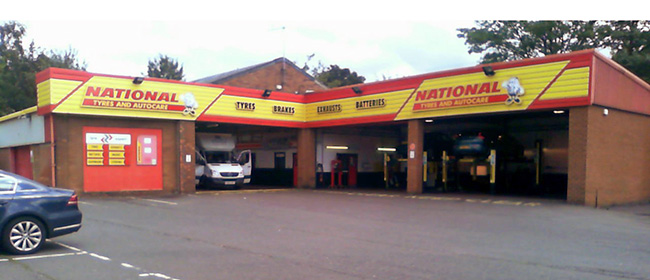 Whitting Valley Road, Old Whittington, Chesterfield S41 9EY UK
Phone: 01246 450 757
(Opposite Mill Garden Centre)
OPENING HOURS:
Monday-Friday:
08:30 - 18:00
Saturday:
08:30 - 17:00
BOOK ONLINE NOW. Save Time. Save Money.
About National Tyres Chesterfield
At National Tyres and Autocare Chesterfield, we have a friendly team of expert technicians happy to help with all your car queries.

You can find us on Whitting Valley Road, which is just off Station road. We're across the road from Willow Springs Pet and Play Centre and a short walk from Travelodge Chesterfield.

National Chesterfield is an MOT certified branch, meaning you can bring your car to us for an MOT. An MOT is legally required annually to ensure that your car is safe to drive. Make sure to take a look at the special offers above to see if you can get a discount on your MOT.

We also offer three types of car services at National. We offer an oil and filter service. Our interim service is a 39-point service which we recommend being done every 6 months. Our full service is a 51-point annual service that checks if your vehicle is legal and safe to drive. For more information on booking a service, please see above.

We stock a wide range of tyres at National Chesterfield. One of our most popular brands is Autogreen, a budget tyre that provides great performance for great value. Our mid-range tyres from Avon and Sailun are great for durability and efficiency. Our premium tyre brands include; Pirelli, Bridgestone, Continental, Yokohama, Goodyear, Dunlop and Michelin. All of these tyres provide excellent performance and durability whilst being very efficient.

We offer FREE vehicle safety checks at National. This includes tyre checks, battery checks, brake checks, wheel alignment checks and visual safety checks. To find out more and book your FREE check, please see the information above.

We carry out a wide range of repairs at National Chesterfield. These include; batteries, brakes, steering, suspension, exhausts, catalytic converters, oil and filter changes, engine treatments and engine diagnostics. For more details, please see the information above.

We understand that car repairs can come out of nowhere, so to help with paying for these repairs we offer Payment Assist. This allows you to spread the total cost over monthly instalments, with no interest or fees. To find out more, please view the information above.

We've worked hard to ensure that our branch is Covid secure, so you can visit us safely.

We look forward to welcoming you to National Chesterfield.
Excellent service. Polite helpful staff. Good prices.
Michael