BATTERY SEARCH
Enter your registration number
NEED HELP?

PHONE FREE
0800 62 66 66
Do not forget to download our batteries discount voucher
Car Battery Checked and Replaced
Think you need a new battery for your car or van? Look no further; our car battery range covers all of the popular vehicle fitments and are suitable for all types of vehicles. Our extensive range includes cheap car batteries with a high specification through to premium batteries. These best value car batteries are manufactured by Napa; innovators in technology, producing quality batteries for OE (original equipment) fitment.
Enter your vehicle registration into the battery search lookup above to find the right battery for your car or van.
With over 250 locations nationwide, and hundreds of batteries in stock locally we can supply and fit your battery at a date and time that is convenient for you.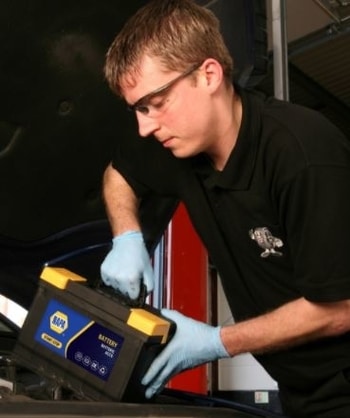 How do I know if my car battery needs replacing?
There are a number of warning signs to look out for that signify it is time to replace your car battery, these include:
Dashboard warning lights. If you see either the battery warning light or the engine warning light illuminated this is an indication that there is an issue and you must get the battery tested ASAP.
You may wonder why the engine warning light would come on, this is because the battery will be providing low voltage to the car's computer system which will trigger the check engine and check battery lights to come on.
Trouble starting the car; often as the battery ages the internal components will begin to erode and therefore become less effective. This is noticeable when you turn the key and its slow to start the engine.
Electrical issues in the car and dimmed lights signify an issue with the battery. The battery failing will hinder its ability to power the cars electrical system.
How do I get my car battery tested?
At National, our technicians can carry out a FREE battery test which only takes a few minutes. This quick and simple health check can diagnose any underlying battery faults. The test involves checking the voltage, start capacity and condition of the battery. Pro-active car battery testing will give you the peace of mind and flag any potential faults before they become a problem.
An increasing amount of in-car technology puts extra demands on your battery, if there are issues with the car starting try turning off the heated windscreen wipers, mobile chargers, satellite navigation systems, heated seats, heated wing mirrors and any in-car entertainments systems.
If subsequently you are advised that a replacement is needed, our technicians will advise you on exactly the right type of battery for your car.
How to test a car battery?
If you have a multimeter you can test your car battery at home. When testing your car battery with a multimeter, it is important to be aware that a car battery should have no fewer than 12.6 volts. Alternatively, if you are wanting your car battery testing, pop down to your local National Tyres and Autocare branch for a FREE battery test. Our technicians will use the latest equipment to test the batteries voltage, start capacity and condition.
What we test and why:
Voltage:
The voltage reading should be 12.6v if lower than this the battery will need re-charging or replacing.
Start Capacity:
The battery test measures the starting ability of the battery from cold. It must maintain 7.2 volts at a low temperature and the reading will be displayed as a % of the start capacity of the battery. If the start capacity is below 75% this indicates that the battery is beginning to deteriorate and you may experience problems.
General condition:
The results of a battery test will be displayed as:
Good battery – no action required
Good battery Recharge – battery needs re-charging, this can be done by taking the car for a 45 min journey to allow the battery to recharge.
Recharge Battery then re-test – the battery is drained and in need of recharging, this will need to be re-tested again in 7 days' time
Replace battery – the battery is entering the end of its service life and a new battery is recommended.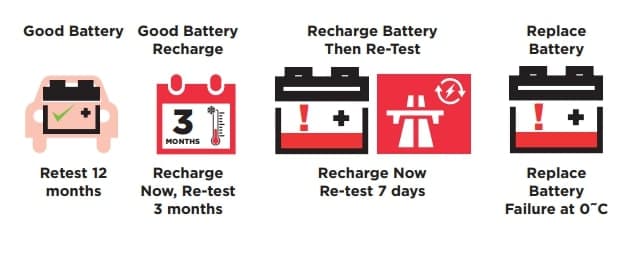 What are leisure batteries?
Leisure batteries are used to power electrical appliances within caravans and motorhomes. They differ from car batteries as leisure batteries are designed to provide power at a steady level over an extended period whereas a car battery would provide a quick burst of energy to the car's engine. Car batteries can be used to power caravans and motorhomes however this is only a short term solution as car batteries are not designed to release the power over an extended period. To read more about Leisure Batteries please click on the following blog article: The complete guide to Leisure Batteries.
What battery do I need for my car?
The right battery for your car will depend on the vehicles usage and increasingly the level of electrical equipment in operation. The battery size required for your car can be found in the owner's manual. If you are unsure, simply enter your vehicle registration into the battery search tool at the top of this page.
How much does a car battery cost?
Battery prices vary depending on the type needed for your vehicle with prices starting from as little as £61.00. Our battery prices are inclusive of fitting and disposal.
For an accurate battery price, enter your vehicle registration details in the battery search tool above to find the batteries that are suitable for your vehicle.
Don't forget that here at National we understand that motoring issues can be an unwelcome expense, therefore we offer unbeatable prices guaranteed with our price promise scheme and flexible payment options with our Payment Assist finance plans.
Mobile Battery Fitting
Mobile battery fitting is a service that allows you to have a vehicle battery fitted at the location of your choice. This could be at home or at work, we'll be able to fit a battery at a time and place which suits you!
What is the difference between a start/stop and a regular car battery?
Battery replacement is increasingly becoming more difficult, prolonged and specialised for the installer with the staggering rate at which technology is moving.
Batteries are increasingly being manufactured for specific vehicles with over 70% of newer vehicles having Start/Stop technology.
If a vehicle has this functionality and an AGM battery fitted, then the replacement battery must be of the same technology and of no less electrical performance.
It is essential that the correct battery is fitted, failure to do this will result in the vehicle not working.
A 'start / stop' battery supplies the starter motor with a larger current to enable the car to re-start at the press of a pedal.
Unlike a regular battery, Start / stop battery technology sometimes referred to as micro hybrid, automatically switches off a car's engine when the vehicle has stopped to conserve fuel helping car manufacturers cut co2 emissions.
It is important to understand that the continuous cycling feature in a start/stop car would fail if a standard battery was fitted as they are not designed to be discharged and recharged on a cycle in this way. Standard batteries are only designed to start the car. While they look very similar to standard batteries, the internal construction is different.
AGM can be replaced with AGM batteries and AFB can be replaced with either AFB or AGM batteries.
What do I do if my car battery is dead?
If you believe your car battery is dead because your car won't start a potential option is to use jump leads to connect the flat battery to another car's charged battery.
You will need to ensure that the leads are connected noting the correct polarity ( + ) and ( - ). It is imperative that you refer to the manufacturer's handbook first.
The ECU (engine control unit) in some cars could sustain damage if they are jump started, always check the manufacturer's handbook first.
What are the different types of car batteries?
At National we stock four types of batteries, these are:
How long do car batteries last?
The lifespan of your car battery will depend on a number of factors including the type of vehicle the battery is installed in, extreme weather conditions and driving habits.
Our batteries are guaranteed for up to 5 years
All our batteries are covered by either a 4 year or 5 year guarantee depending on the type of battery you require.
NAPA range comes with a 4 year guarantee and covers 97%+ of the European Car Parc. Although new technologies are emerging, these flooded lead acid batteries will continue to be fitted to the majority of vehicles on the road.
NAPA Plus range comes with a 5 year guarantee and has been specifically designed to offer superior performance, exceeding O.E specifications. These batteries have an increased service life in even the most demanding conditions.
Our NAPA AFB and NAPA AGM ranges both come with a 5 year guarantee. These batteries are designed for vehicles with start-stop technology, that require a battery capable of running various electrical devices when the vehicle is stationary and the engine is not running.
How do I dispose of an old car battery?
Car batteries should never be disposed in a household bin, not only is this dangerous due to the hazardous waste but it is also against the law to do so. Let us save you the trip to the tip to dispose of your car battery, simply pop down to your local National Tyres and Autocare who will dispose of the battery responsibly as we only use registered environmental waste carriers.
Frequently Asked Questions
Batteries
NAPA Battery
Specification
NAPA
AFB Battery
Specification
NAPA
AGM Battery
Specification