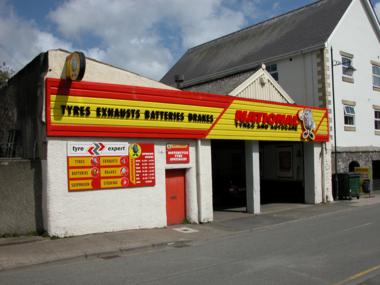 National Tyres and Autocare Caernarfon
National Tyres and Autocare
Bank Quay, Caernarfon LL55 1SU UK
Phone: 01286 672 185
(Next to Victoria Dock)
Branch manager: Stuart Woodward
View Map
OPENING HOURS:
Monday-Friday:
8.30am - 6pm
Saturday:
8.30am - 5pm
The UK's largest independent tyre and autocare specialist. Services available.
With 50 years' experience and expertly trained technicians you can trust us to do the job right.
One-stop-shop for

all tyre and autocare needs
we bring expertise to address your motoring requirements
Vehicle Repairs
& Servicing
Guarantees backed

by a nationwide network
enjoy peace of mind, wherever you may be
Safety Checks
ACCESSORIES
Unbeatable
At National, we constantly check our competitor's prices to ensure that ours are always the lowest. FIND OUT MORE
Spread the cost. FIND OUT MORE
BOOK ONLINE NOW. Save Time. Save Money.
OUR COMMITMENT TO YOU
Our whole operation is based on one very simple premise – that we go that extra mile to make sure that every single one of our customers is totally satisfied with the service we provide
About National Tyres Caernarfon
If you are looking for tyres in Caernarfon then you've come to the right place. Our branch on Bank Quay, Caernafon has a wide range of quality tyres in stock to suit your budget. Our expertly trained technicians are also autocare specialists, so you can bring your car to us for repairs too.

Our branch can be found on Bank Quay or locally known as Cei Bank or Cei Banc and we are near to Victoria Dock, so easy to find. Bank Quay also used to be the home of the first bank in Caernarfon, which was established in 1792 by Richard Roberts. We are a short walk away from Caernarfon Castle and many eateries, so plenty of places to go if you want to leave your car with us. Once your car is completed we will give you a ring.

Our trained technicians can offer advice on tyre choices and can carry out autocare services, including exhausts, catalytic converters and DPF, brake discs and pads, steering and suspension, oil change and filter service, car servicing, engine diagnostics and much more. We also offer Free Safety Inspections and can fit and supply wiper blades and bulbs.

We know tyres and autocare services can become expensive so that's why we offer Payment Assist, which allows you to spread the cost. There is no interest or fees on spend up to £1,000. Ask in the branch for more details or click on the link above.

If you have placed an order online and have a query please don't hesitate to contact us. Or if you just want us to check your tyre pressures or the general condition of your tyres please feel free to pop in the branch.

The branch manager at National Tyres and Autocare Caernarfon is Stuart Woodward
Always advise the best tyres for your car at a competitive price.
Lynda