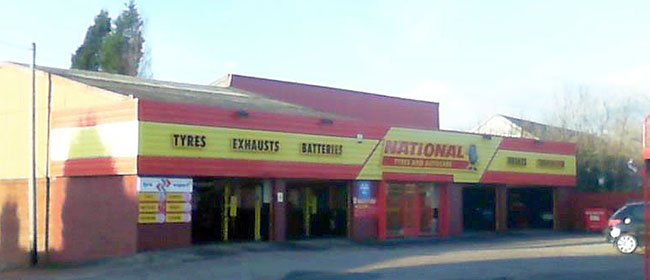 National Tyres and Autocare Newcastle-Under-Lyme
National Tyres and Autocare
117A Liverpool Road, Newcastle-Under-Lyme ST5 9EW UK
Phone: 01782 617 331
(Next to new Sainsbury's.)
Branch manager: David Walker
View Map
OPENING HOURS:
Monday-Friday:
8.30am - 6pm
Saturday:
8.30am - 5pm
The UK's largest independent tyre and autocare specialist. Services available.
With 50 years' experience and expertly trained technicians you can trust us to do the job right.
One-stop-shop for

all tyre and autocare needs
we bring expertise to address your motoring requirements
Vehicle Repairs
& Servicing
O2 sensor clean
Duxback treatment (whole car)
Guarantees backed

by a nationwide network
enjoy peace of mind, wherever you may be
Safety Checks
ACCESSORIES
Unbeatable
At National, we constantly check our competitor's prices to ensure that ours are always the lowest. FIND OUT MORE
Spread the cost. FIND OUT MORE
BOOK ONLINE NOW. Save Time. Save Money.
OUR COMMITMENT TO YOU
Our whole operation is based on one very simple premise – that we go that extra mile to make sure that every single one of our customers is totally satisfied with the service we provide
About National Tyres Newcastle-Under-Lyme
If you're looking for autocare in Newcastle-Under-Lyme, then look no further than National Tyres and Autocare! Our team of experts can help with a range of car repairs, from tyre changes to MOT's.

You can find us on Liverpool Road, next to Sainsbury's. We're also not far away from KFC Stoke on Trent and the Gordon Banks Sports Centre. There are bus stops just next to the branch, so if you need to get anywhere after dropping off your car, there are plenty of transport options.

At National, we have a wide range of tyres to suit individual needs. One of our most popular tyres are Autogreen Tyres, a budget-friendly tyre that's perfect if you're not looking to spend a huge amount. We have excellent mid-range tyres from Avon Tyres and Sailun Tyres which are great if you're looking for a mid-range alternative. Our premium tyres include Pirelli, Michelin, Bridgestone, Continental, Dunlop and Goodyear. These world-renowned tyres will give you maximum performance and are great if you're looking for a premium option.

We offer three types of car services; an oil and filter service, interim service (a 39-point vehicle check) or a full service (a 51-point annual vehicle check). All of our car autocare services can be booked online through our website.

Our National Tyres and Autocare branch in Newcastle-Under-Lyme is MOT qualified. With MOT's being a legal requirement, we try to offer the best price for this service. Be sure to check out the special offers page to see if we have any promotions for MOT's. Signing up to our MOT Reminder Service will ensure you receive your Car MOT at our branch at a discounted rate.

Alongside MOT's and servicing, we offer a wide range of vehicle repairs. These include; car tyres, wheel alignment, batteries, brakes, steering, exhausts, catalytic converters, oil changes, engine treatments, wiper blades and more.

We know that a lot of vehicle repairs are unplanned. Due to this, we can help you spread the cost through Payment Assist. To find out more information, please view the Payment Assist section above.

We also offer FREE vehicle safety checks. This includes tyre pressure, battery condition, brakes, wheel alignment and visual safety. You can find out more information on the safety checks above.

Our team are currently complying with all Covid safety measures to ensure your wellbeing.

We look forward to seeing you soon at National Tyres and Autocare.
The branch manager at National Tyres and Autocare Newcastle-Under-Lyme is David Walker
Always helpful and efficient. Nothing is too much trouble . Excellent customer service!
Joanne