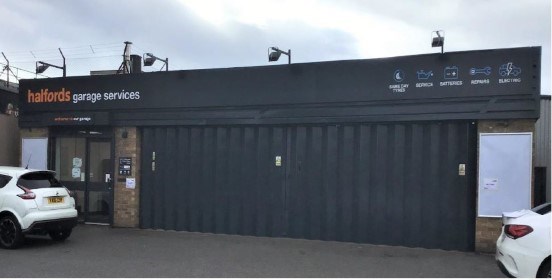 Halfords Garage Services Northallerton (formerly National)

12 East Road, Northallerton DL6 1NF UK
Phone: 01609 774 111
(Opposite Community Centre Car Park.)
OPENING HOURS:
Monday-Friday:
08:00 - 18:00
Saturday:
08:00 - 17:00
Formerly a National Tyres and Autocare location
Find tyres from the world's most reputable tyre manufacturers. We offer hundreds of tyres, no matter your budget or vehicle type. If you are looking for budget, mid-range or premium tyres, then look no further than Halfords Autocentres.
The 49 point Interim Service is designed for the high mileage car user (regularly exceeding 2,000 miles a month), or vehicles which require frequent checks. Our ATA-trained technicians will test all of the main moving parts that may need attention over a short period of time.
Book a free brake check and we will check the condition of your brake pads, shoes and discs and advise if any replacement is required. Why not sign up to Brakes4Life - you pay for the first set of pads and shoes and then the rest are free for as long as you own a vehicle!
Air Conditioning
We offer a comprehensive air conditioning service and recharge, recommended by most manufacturers to be undertaken every two years. We also offer two additional air conditioning services which can be booked online: an air conditioning diagnostics check and an air conditioning antibacterial clean.
Are strange rattling noises or a failed emissions test keeping you off the road? Our expert technicians will conduct a fast and thorough exhaust check and if a replacement is required, provide you with a free, no-obligation quote.
If your tyres wear unevenly or steering veers to one side, you may need your wheel alignment corrected. Book today for great prices and expert advice.
Stop little problems becoming big ones - have a diagnostic check to interpret your vehicle's fault codes and identify any repair work that is needed.
Our expert technicians check key battery health indicators, like charging and 'cranking' capabilities. If we find you need a replacement, we'll provide a no-obligation quote.