National Tyres and Autocare Newport (Isle of Wight)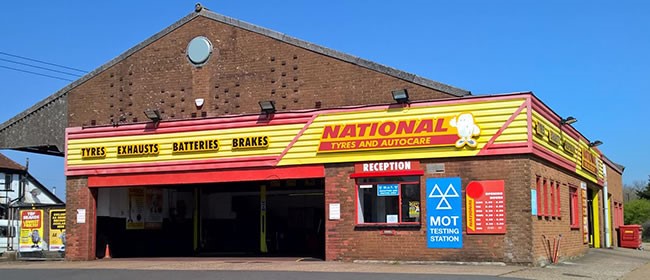 59 Shide Road, Shide, Newport, Isle Of Wight PO30 1HL UK
Phone: 01983 523 077
(Near Newport Football Ground, towards Sandown.)
OPENING HOURS:
Monday-Friday:
08:30 - 18:00
Saturday:
08:30 - 17:00
BOOK ONLINE NOW. Save Time. Save Money.
About National Tyres Newport (Isle of Wight)
Welcome to National Tyres and Autocare Newport, if you are in the Newport area on the Isle of Wight and are in need of any vehicle repairs, tyre fittings, MOT or car servicing National Tyres and Autocare Newport can cater to your motoring needs. Located at the address 59 Shide Road, Shide, Newport, Isle Of Wight PO30 1HL this branch is ideally located just off the A3020 towards Sandown and only a short drive from Newport Football Ground.

Our National Tyres and Autocare branch in Newport is equipped and capable of providing MOT checks. We also currently have a promotion with MOT's priced at £35 when you sign up to our MOT reminder service. This means that our MOT's are one of the cheapest on the market and you get a helpful reminder when your MOT is due.

Car servicing is another service that we provide. They are categorised into 3 different packages – Oil and Filter, Interim and Full. A Full Service covers all aspects of your vehicle and is the most thorough and expensive with the services getting cheaper as you get down to an Express Service

At National Tyres and Autocare Newport we try to make the whole process of buying tyres and repairs as affordable as possible, this is why we have a National Payment Assist allowing our customers to spread the costs.

We also provide a number of FREE checks to ensure car safety, these checks include - Free tyre and pressure checks, free battery condition checks, free brake checks, free wheel alignment checks and a free visual safety check.

The repairs that we offer to our customers are extensive. We currently offer repairs in the following areas - Batteries, brakes, steering and suspension, exhaust, oil changes and engine treatments.

Finally, customer safety is our primary concern, this is why we ensure that all of our branches are fitted with COVID secure measure and social distancing is implemented.

Perfect experience, as always at this branch. Professional, friendly and courteous. Excellent!
Sam