National wins TyreSafe Retailer of the Year Award 2021
13 Dec 2021
We are very proud to support TyreSafe's tyre safety awareness campaign this year and every year to help promote the importance of tyre safety checks and the dangers of poorly maintained tyres. Following our award win for the Online & Social category in 2020, we are delighted to announce that we have won the award for Tyre Retailer this year.



We believe as a tyre retailer that we must support TyreSafe by amplifying their tyre safety messaging to as wide an audience as possible. Every October we promote Tyre Safety Month and support all TyreSafe's tyre safety campaigns throughout the year via our branch messaging, emailers and social media platforms.
Who are TyreSafe?
TyreSafe are a UK based charity with the aim of raising awareness of the importance of tyre safety. Since the charity was founded in 2006, National have been a proud partner of TyreSafe, promoting tyre safety, as well as the dangers of part-worn and illegal tyres with the hope of reducing tyre related incidents on UK roads. TyreSafe look to educate drivers and improve awareness around regular tyre checks.


At National, we offer a FREE tyre safety check. National's free tyre safety check can be booked on our website and can be undertaken at your local National branch. To book a free tyre safety check, please click on the green button below.


What are the TyreSafe Awards?
Every year, TyreSafe hold the prestigious TyreSafe Awards, highlighting and celebrating businesses and individuals who have gone above and beyond to promote the importance of tyre safety. There are 8 different categories: Safety in the Community, Tyre Retailer, Online and Social, Manufacturer, Outstanding Commitment to Tyre Safety and three Outstanding Personal Commitment to Tyre Safety awards.


In 2020, National Tyres and Autocare were announced the winner of the Online and Social category which we were extremely proud of. This year we are delighted to have beaten off some fierce competition and won the Tyre Retailer award - our second award in two years.
How have National promoted tyre safety?
There are a number of ways that we have promoted tyre safety and we start off by looking at the importance of regular car and tyre maintenance:


The importance of a regular tyre check
2021 has been another difficult year with Covid hitting the UK hard, which has resulted in many people working from home and using their vehicles less. When vehicles are left parked for long periods components can start to cease, batteries can go flat and tyres can start to deteriorate, especially when exposed to UV light.
UV light can cause the tyre rubber to start to perish and tyre pressures can also drop, so we wanted to push a message out to these vehicle owners about the importance of checking tyres after long periods of being stationary, especially during lockdown.


Shockingly, it is estimated that one in five drivers never check their vehicle's tyres and there is an estimated 10 million illegal tyres on our roads and the majority of the illegal tyres are only picked up when a vehicle is serviced or brought in for an MOT.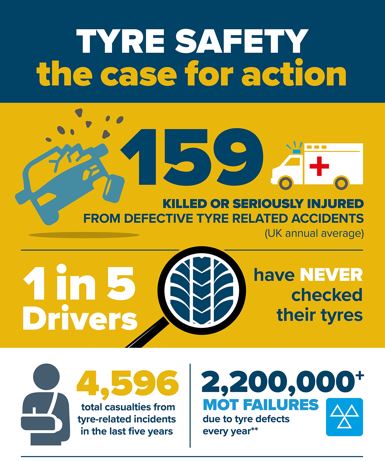 This data is very worrying and for this reason, we will not stop promoting tyre safety messaging in the hope that we can educate more drivers to be responsible for the upkeep of their vehicles.


We have been sharing images of poorly maintained tyres throughout the year, demonstrating the importance of checking tyres' tread depths across the full width, checking tyre pressures, removing embedded objects and inspecting tyres after hitting kerbs and potholes.


Here are some shocking examples of tyres we have replaced during this year: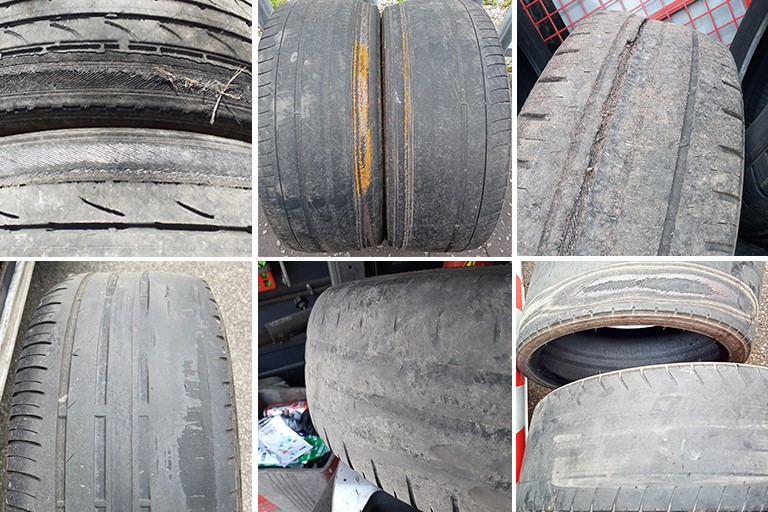 These tyres are all illegal and should have been replaced much sooner. We shared these images along with many other poor examples of tyre maintenance neglect across all our Social Media channels in the hope they would shock ALL drivers, whether young or old, male or female to check tyres regularly and take responsibility for their safety and the safety of their family and other road users. We are pleased to say that our social posts appeared to strike a chord with many people.


The dangers of part worn and second hand tyres
We have also shared our concerns about the hidden dangers of part worn tyres, along with TyreSafe's investigation findings, where they reported that of fifty part worn tyres purchased only one tyre was being sold legally. And, what was more shocking was the high percentage of part worn tyres that were being sold with sub-standard repairs and potentially lethal damage.


The impact of the MOT extension
Due to the MOT extension scheme in 2020 more vehicles moved into the same MOT months and demand for MOT slots is now very high, especially during Autumn and Winter, so we have been offering drivers the opportunity to book their MOT in advance, even if their vehicle is outside of the 30 days before it can be presented for an MOT. We also offer an MOT reminder service and we can check a vehicle's MOT due date.


Check your tyres on a regular basis
As part of our campaign strategy, we have regularly shared 'How to' videos to demonstrate how easy it is to check your tyres at home and we also offer FREE Tyre Safety Checks and advice in all our branches.


Book a Car Service at National
We encourage drivers to book car services checks to make sure their vehicle is roadworthy. At National, we offer three car servicing packages: an Oil and Filter Service, an Interim Service and a Full Service. We also offer car service and MOT packages, where you will receive your MOT at a discounted rate.


Book a Wheel Alignment check
We also encourage drivers to book in for a wheel alignment check to ensure your vehicle's wheels are set to the optimum position. If you are wanting to book a wheel alignment check at your local National Tyres and Autocare branch, please click on the green button below.


We believe that the work we have done to promote tyre safety during the past 12 months has significantly raised awareness of tyre safety and helped to considerably amplify TyreSafe's message to a wider audience and we will continue to do so.


Book a FREE Tyre Safety Check at National
Anyone needing advice on tyres, whether that's just tyre pressures or general condition, please speak to one of our experienced tyre technicians in a branch or book a FREE safety check. Your local branch can be found here: National Tyres and Autocare branches.




Jack Underwood
Did you enjoy this blog post?
|